I came across this recipe on Smitten Kitchen and immediately put it on the menu to make a couple of weeks later. However, I couldn't get it out of my mind so I made it the next day! How was I supposed to forget about a little meatball stuffed into a curly cabbage leaf and simmered in pomodoro sauce?!
Almost every culture has some version of cabbage rolls, it seems, and there are many alterations that can be made to the recipe to make it your own, which I have done. Be sure to click over to Smitten Kitchen to read her post as it is far more informative and entertaining than my own.
Although savoy cabbage is called for, I'm sure a plain old cabbage would work just fine if you can't find savoy. Be careful pulling the leaves away from the head because they can tear easily and you want as full a leaf as possible. You certainly don't want the meatball escaping!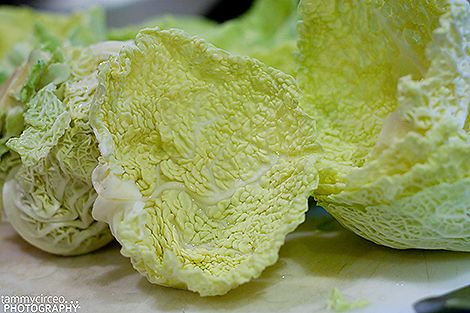 I used a hot Italian sausage, but you could use a mild one. Feel free to use chicken or turkey sausage as opposed to pork, too. I also like to mix sausage and ground beef for more flavor.
The sausage is plenty flavorful on its own, but a little extra rosemary and sage doesn't hurt anything.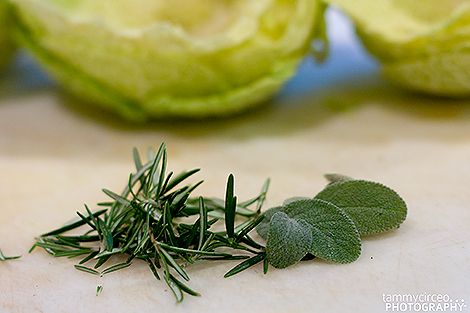 Blanch the cabbage leaves just to wilt them a little...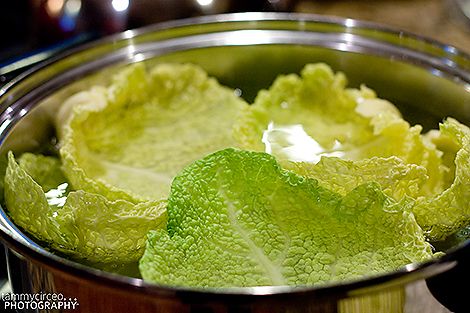 ... then lay them face down on a towel to cool and dry a little.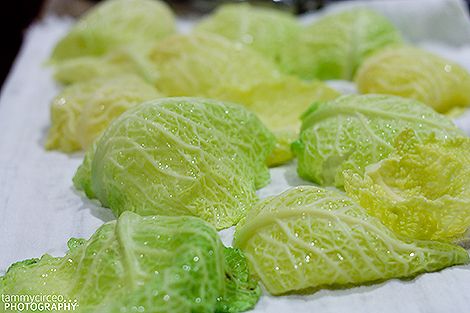 Put a golf-ball sized meatball in the leaf. I found it easiest to put it at the stalk end of the leaf, roll it a bit, fold in the sides ...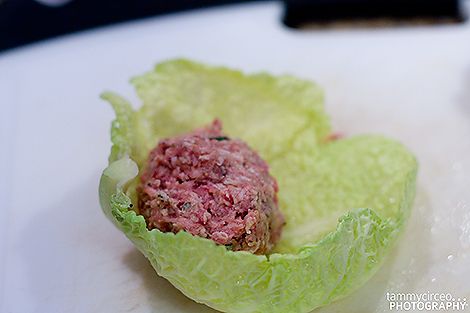 ... and bring the top over it all and pin it with a toothpick. Smitten Kitchen shows beautiful little packets with a toothpick sticking straight through with one poke, but my packets kept popping open so I poked through twice.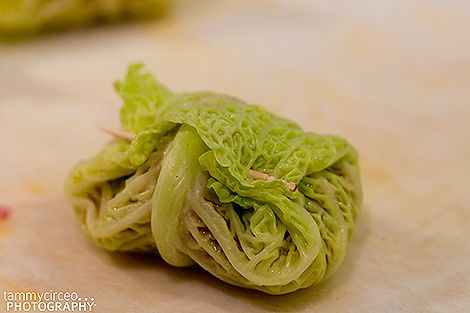 The tomato sauce is just like I always make ... olive oil with garlic and pureed tomoatoes ... and the cabbage rolls are nestled in to simmer.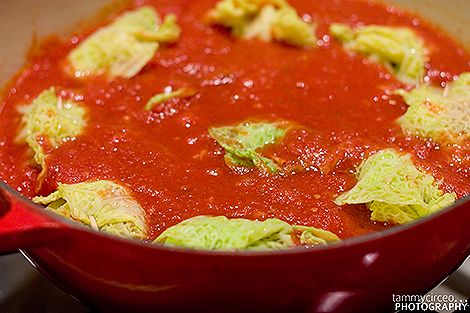 I served it with rice, but mashed potatoes or a small pasta, like orzo, would be good. You can get the recipe from Smitten Kitchen, or I've rewritten it for my own use and the link is after this last photo.