Ken, my husband, is a lentil fan. He especially likes the way his mom makes Lentils and Dumplings, something I've never been able to replicate to match the taste he remembers. That said, I have made many lentil soups in the hopes of appealing to his palate so I was a little leary to try yet another one this week, especially knowing that it was "orange-scented".
It started out innocently enough with onions, carrots, and celery ...
... and took a turn toward the exotic with fresh ginger, orange peel, a very specific number of peppercorns, coriander seeds, and cloves ...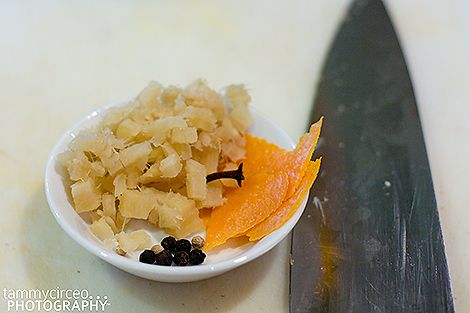 In the end, nothing is picked out and everything is pureed together to make a very ugly, but tasty soup, topped with homemade yogurt and lardons.  
Aly has never liked lentils. Just the mention of them makes her gag ... even the Lentil Rice casserole (download the recipe from the Recipe Index using the button at the top of the page) that is so delicious served as the "meat" in burritos! When she asked what was for dinner, I cheekily said, "A bean soup." She didn't ask what kind of bean and I didn't clarify that it was really a legume. She ate it, loved it, and didn't hate me when I told her it was really lentils.
This is a keeper!
(If you're new around here or are wondering what French Fridays with Dorie is ... It's an effort to use one of Dorie's recipes from her cookbook Around My French Table each week. The recipes are decided on by popular vote on the website French Fridays with Dorie. Purchase your book HERE and play along! According to the rules of the group, I'm not allowed to post the actual recipe ... mes regrets.)