When I read the title of the recipe for this week, I thought, "Ooo ... yummy ... one of my favorites ... Crème Brulée!" Then I realized it was a savory crème brulée and I wondered how this would all work out.
All it took was coming to terms with the fact that this recipe is a simple baked custard with cheese. I felt like I had been had at "bonjour" and missed the cue!
I'm a lucky woman in that even though I don't live in France, I can easily find Comté cheese. It's one of the many benefits of living on the West Coast of these United States.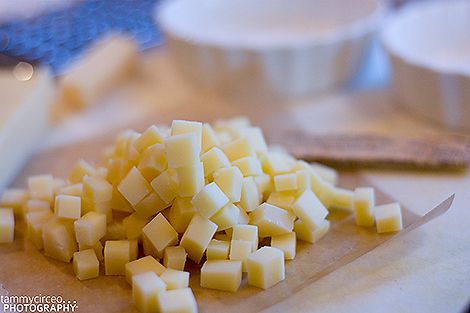 Comté cubed and paired with Parmiggiano in the bottom of each ramekin is genius. Some other Doristas suggest grating the cheese so it melts better, but I must say that finding the random cube of unmelted yet warm cheese in a bite was an amazing surprise.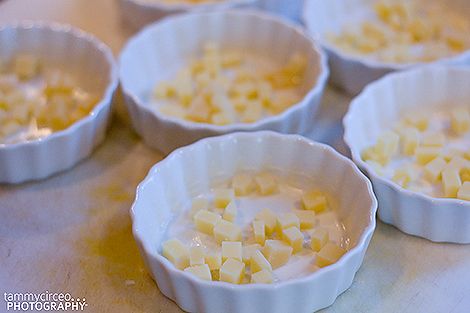 This is not a calorie-friendly recipe so you must heat heavy cream and whole milk to almost boiling. Of course, I chose to do it in a tiny, copper pot I scored at the thrift store for pennies on the dollar!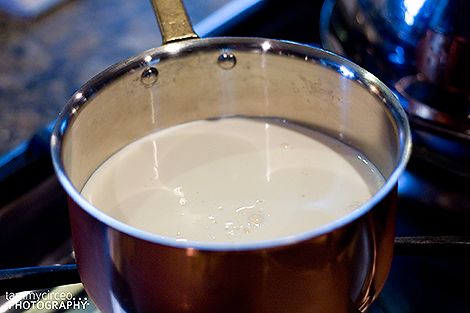 Again ... not calorie-friendly, but three egg yolks are whisked with salt, pepper, and freshly grated nutmeg. (Save the egg whites for tomorrow morning's breakfast because you'll need to conserve every calorie possible after eating this today!)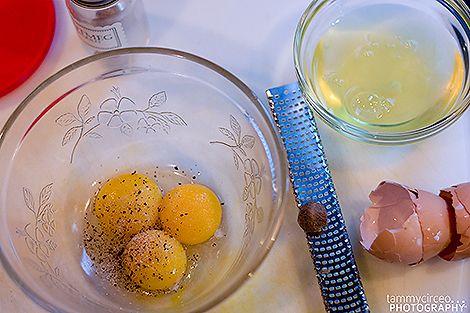 After gradually adding the hot cream/milk mixture to the egg yolks to temper it and not end up with scrambled eggs in our cream, it is whisked together, then poured over the cheese and put into a 200-degree oven for about 50 minutes. Or in the case of MY oven ... almost an hour and half. I think it would be fine to increase the temperature to 250F.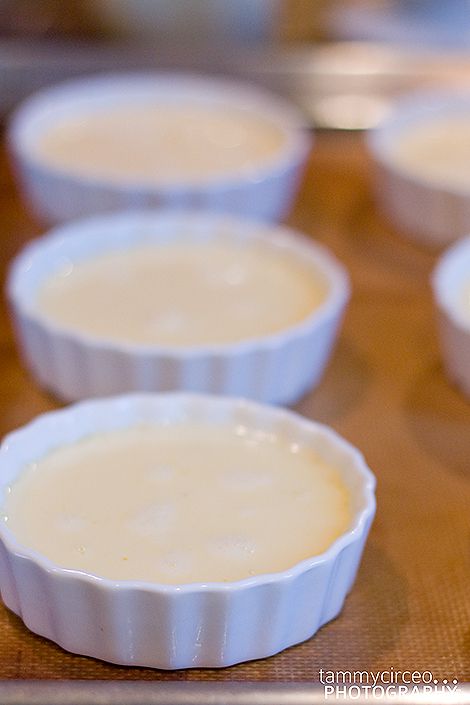 You can cool it at this point and save it to serve later or you can put grated Comté on it and bring out the butane torch to melt and scorch it immediately.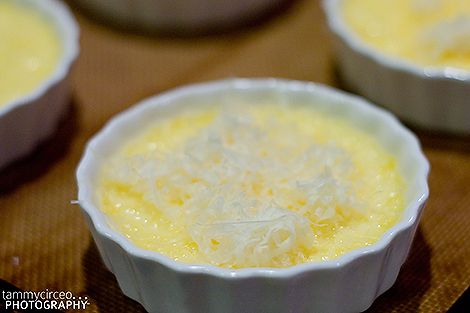 The butane torch worked well for me to brown the top, but so did the broiler on the toaster oven when I warmed one on another day. Use a butane torch, a broiler in a toaster oven, or the broiler in your full-sized oven. The end-goal is to get a melted, browned cheesy top.
This might be out of the norm for a cheese course, but I would totally recommend it ... something different to mix things up a little bit.
Of course, you could always just devour it along with a glass of white wine on a lazy Sunday evening ... I have no idea whether that would be advisable or not ... No idea whatsoever.
(If you're new around here or are wondering what French Fridays with Dorie is ... It's an effort to use one of Dorie's recipes from her cookbook Around My French Table each week. The recipes are decided on by popular vote on the website French Fridays with Dorie. Purchase your book HERE and play along! According to the rules of the group, I'm not allowed to post the actual recipe ... mes regrets.)