Whether you are looking for a super savory way to start your day, or you want a quick meal any time of the day, a frittata is a great option. It's nutritious and on the table in about 15 minutes so it's perfect for those weeknights when you've gotten home late or the kids are clamoring for food. (Or let's be honest, YOU are clamoring for food!) I especially love it on a leisurely weekend morning. 
Simply put, a frittata is an open-faced omelet that is finished in the oven to set the top and if cheese is added, to melt the cheese. There are no hard and fast rules as to ingredients, of course ... just like an omelet.
I made this one by cooking a couple of thin slices of onion and a clove of fresh garlic just to soften them. I added spinach next ... two-three big handfuls ... and let it wilt just a bit. And finally, I poured the eggs over the top (one whole egg and one egg white), let it cook a little, topped it with a little cheese, and stuck it in the oven for about five minutes. I like to slide it straight out of the pan, but some people turn it out with the bottom of the frittata showing. I much prefer the top-side!
Avocado and salsa lend more texture and flavor, but feel free to garnish it as you wish. Brunch for one was tasty!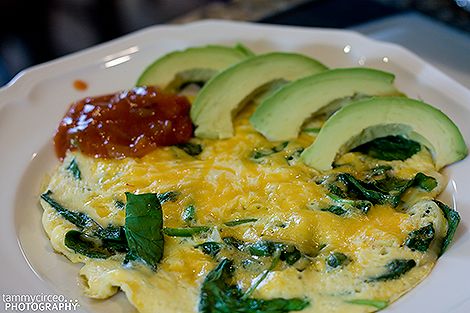 If you are feeding more than one, simply increase the amounts of ingredients and use a larger skillet. You can serve it by cutting wedges rather than turning it out whole.
Bon Appétit!