The summer was 2007 and our oldest had just graduated from high school. Her graduation trip was with me to Paris. She is a Francophile like her mother and I was so excited to show her a bit of my childhood. We arrived in the morning hours and were cordially greeted by a driver that Ken had arranged to take us to our apartment. He took the "long way home" just to show Emily the icons of the city. She was mesmerized and wanted to hit the ground running, but we were walking zombies by that point so we fell asleep.
When we awoke (to the sound of the bass line of rock music being played through the arrondissement on Gay Rights Weekend), we cleaned up and ventured out to the streets and among the rainbow colored wigs and costumes. The aroma of patisseries, coffee, and roasting chickens was enough to make us vow to live forever in Paris and the hubbub of the weekend was quickly forgotten.
Surely, you have a memory associated with roast chicken, no? If not, I suggest that you create one yourself using the following directions:
For the best value, buy whole chickens when they are on sale BOGO (Buy One Get One). Rinse it well, pull out any missed feathers (you might have to use pliers to get a good grip!), pull out the goody bag from the cavity and either save it for another use, or discard it. I always discard it, except for the neck bone which I then toss in the freezer for making stock later.
(These directions are for a simple roast chicken ... I'll list some variations at the end.)
Cut two or three thick slices of onion, cut two or three carrots and celery stalks in half lengthwise, and put them in the bottom of the roasting pan. They act as a natural roasting rack and also flavor the cooking juices.
Rub the chicken with oil or butter, then season with salt and pepper. Tuck the wing tips under the bird. (I know this photo looks like they are tucked above the bird, but that's because I find it easier to do upside down. Crazy me.)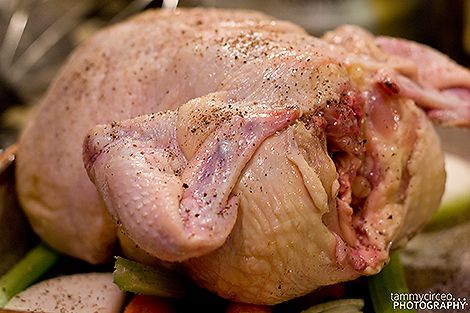 I like to tie the legs together because I don't like to see the bird's legs splayed after it has roasted. Sorry to be blunt, but this, to me, is more appetizing.
I've roasted birds for many years, but loved the suggestion from Dorie Greenspan to roast it for 25 minutes on one side, then flip it, like any knowledgeable sun tanner knows to do. If you don't have a rotisserie or spit, this method helps the bird to brown on more than the top-side.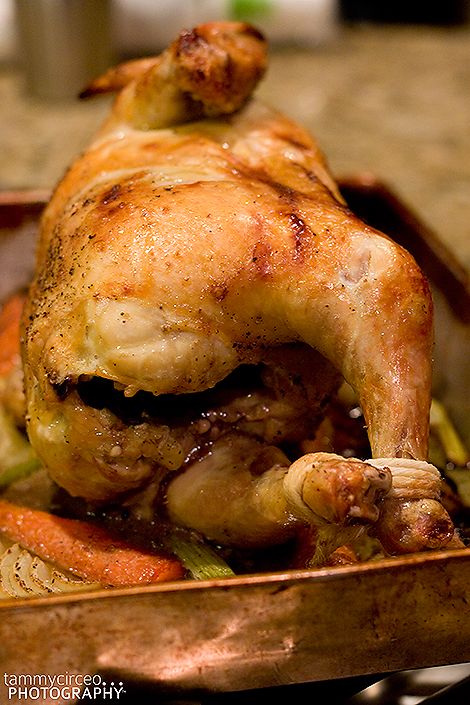 After the side roasting, put it on its back for 10 minutes more, then bring it out to rest. I like to turn it onto the breast side to rest so that the juices will resettle in that part, but you can also put it bottoms-up in a bowl to rest.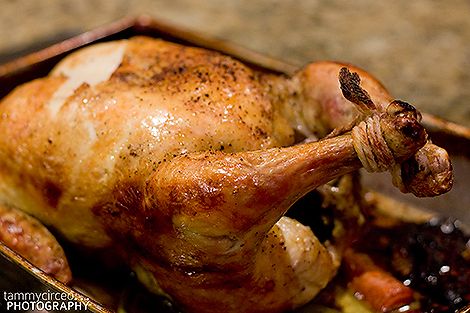 Carve to serve, or let it cool to the touch, remove the meat, and reserve the bones for stock. (After carving to serve, you can use the bones left for stock, too.)
If you are carving to serve, use the roasting juices to make a gravy or sauce. If you are keeping the bones for stock, be sure to keep the pan juices and vegetables, too. They give so much flavor and color to stock!
I like making a simple roast chicken, especially if I'm planning to make stock, but if you want, you can fill the cavity with cut lemons (or oranges), rosemary and thyme sprigs, and  you can sprinkle the bird with spices and herbs before baking. I make it both ways and especially love the lemons and rosemary when I'm planning to serve a whole roasted chicken for dinner. Let your imagination dictate which fruits and herbs you'll choose!