Homemade rolls are one of the best gifts a cook can give to those being fed ... or just to those who are privileged to be in the same space where the rolls are baking. The fragrance is warming and welcoming whether you choose to eat the rolls or not, right? I usually reserve roll-making for the holidays or special meals, but this recipe is so simple that I might do it more often.
The ingredient list is not long and the method is quick. Scalded milk is mixed with cubes of butter to melt it ...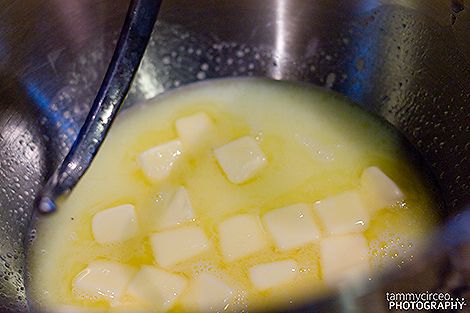 ... then the rest of the ingredients are layered in ...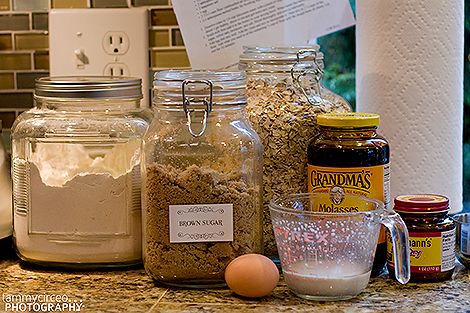 ... resulting in a beautiful, tan-colored dough. You turn it out into a buttered bowl and refrigerate it. You read that right, you refrigerate it! And can you believe that it rises even in the fridge? It should be left a minimum of two hours, but can be left overnight, if needed.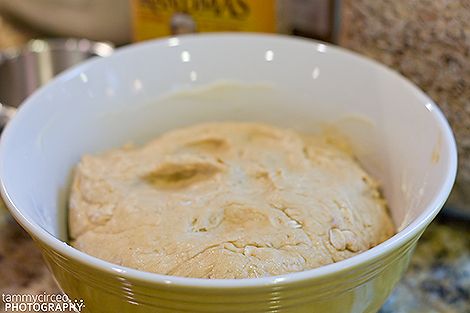 When you take it out of the fridge, knead it a little to bring it together, then form a log. Cut the log into twelve pieces and roll them into balls ...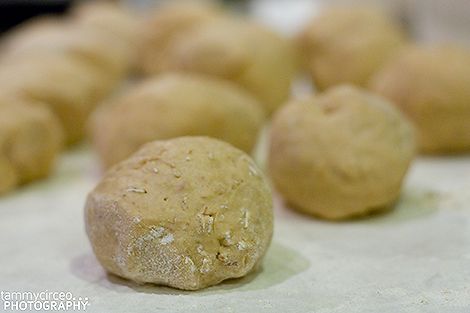 The original recipe says to flatten each ball into a rectangle (which is usually an oval where dough is concerned, right?!) and roll it up.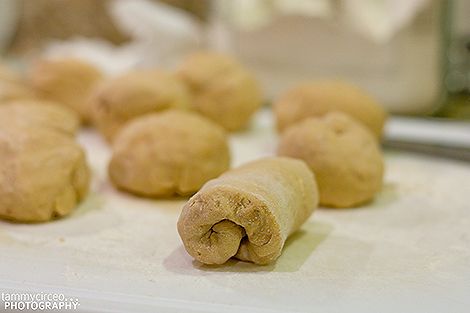 After rolling, turn the ends downward and place in a baking dish.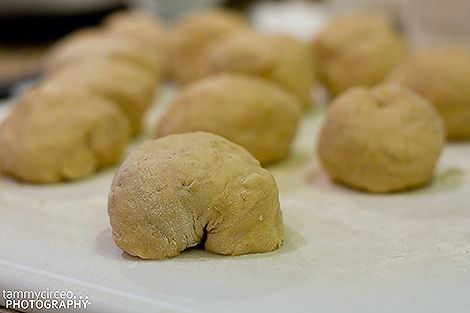 The reason they suggest doing this is so that when they bake, they bread will have more layers and be king of "shreddy" when open them up. I will just make them into balls from here on because I didn't experience any of that "shreddy" business and I love the full squishy softness of the roll.
The original recipe also recommends using a 9-inch pan so I squished the rolls in there tight, brushed them with some butter and sprinkled oatmeal on top.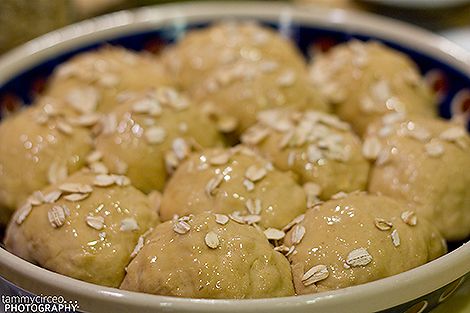 The original recipe further says to let the formed rolls rise till doubled, but my eyesight is getting worse (hee hee) and I stuck them right into the oven. It didn't seem to hurt them at all.
The next time I made them, I put them in a 9x13 cake pan to give them more room to rise and they rose to fill the whole thing!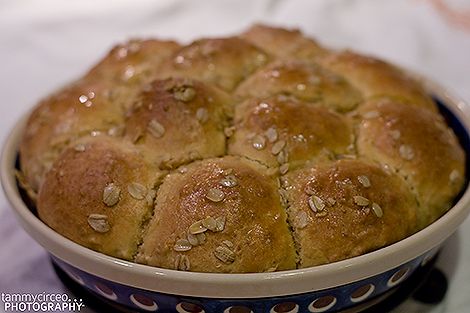 The flavor is slightly sweet and nutty and would be delicious with both jam spooned on for breakfast or a snack, or accompanying a meal.
Bon Appétit!
Download Oatmeal Molasses Rolls