A few years ago, Emily went to Greece and Israel and came home with tall tales of how wonderful the hummus was. She researched how to make it and was my live-in hummus maker for a while. After she left home, I was hummus-less and my attempt to make it like Emily failed miserably.
Enter Neighbor Lori ... Lori is a wonderful cook and has great tastes. She is teaching her boys the same thing. I took my failed attempt over to Lori's so she could tell me what I had done wrong. Her 5-year-old tasted it and said, "Hmm ... it's good on the first taste, but the second flavor after you swallow is not good." WHAT.KID.TALKS.LIKE.THAT.ABOUT.FOOD?!
A few hours later, Lori walked over to my house with a gift ... a bowl of her hummus. It's a killer recipe ... that she is willing to let me share with you. She uses four cans of garbanzo beans each time she makes hummus because her family loves it, but I made half of what she usually does.
Most recipes found online include garlic which Emily says seemed to be missing from the hummus she tasted in Greece and Israel, but Lori's recipe includes it so here we go ... Garbanzo beans, tahini (sesame paste), garlic, lemon juice, a little olive oil, cumin, and paprika ...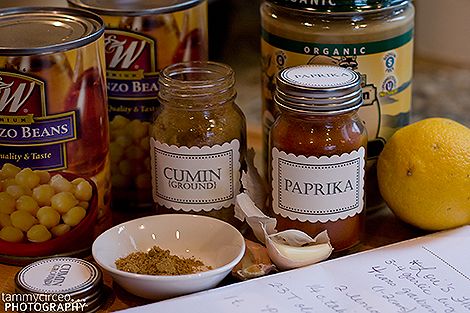 Lori suggests putting the garlic in the food processor first and pulse a little ...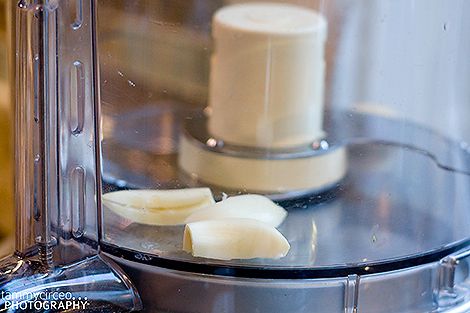 ... then drain the garbanzo beans, but keep the juice from half of the cans to use at the end of the processing to get the consistency right. (If you are using four cans, reserve the juice from two of the cans. You won't use all of it, but it's best to have more than you need, right?)
Put the beans into the processor and whir a bit, then add the tahini, lemon juice, and olive oil.
Finally, whir in the spices and as much of the reserved juice as needed to achieve the smooth consistency. Taste it and see if you can stop eating long enough to put it into a proper bowl!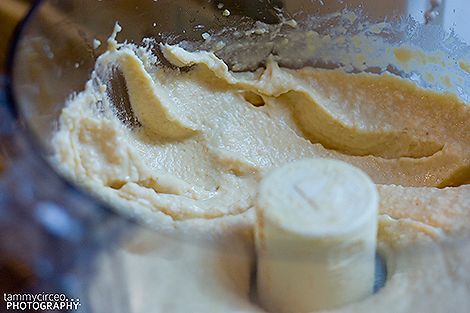 Hummus can be eaten with just about anything you can think to dip into it ... pita bread, celery sticks, cucumbers, grape tomatoes, carrot sticks, pretzels, crackers ...  your finger ... :) Use it on sandwiches and in wraps, too, with lots of vegetables.
{Scroll past the photo for a downloadable recipe.}