Some of you read the title of this post and decided you have no use for it and declared me certifiably insane for making my own yogurt when it is so readily available in the grocery store. Others of you opened it excited to hear my story because you are like us ... you eat plenty of yogurt, want a "clean" version (no gelatins, pectins, artificial flavorings, added sugars, etc ... ), and are tired of being gorged on the price.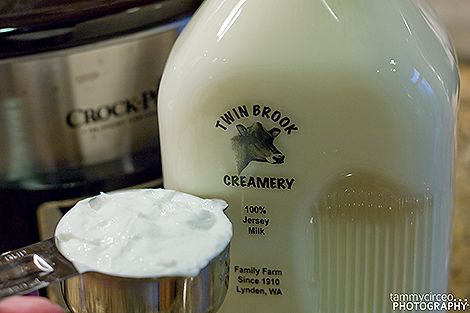 Given that a quart container of quality yogurt goes for $3-4 , it is significant news that a half gallon of milk and a little yogurt (to use as a starter) can yield a  half gallon of yogurt. That's all it takes ... along with a little time. You don't even need a yogurt machine and I'm going to show you how to make it without one.
Some sources say that you should only use raw milk, but there's plenty of evidence to show that it is not necessary and in some cases, not desirable. However, if you like raw milk and it agrees with you digestively, feel free to use it! My sister-in-law makes yogurt with raw milk and has great success. It is also advised to not use an ultra-pasteurized milk because it won't work so well. Be sure all your utensils and pots are very clean. Yogurt making
is basically growing bacteria, but we only want to grow the good kind.
I bought a gently pasteurized, non-homogenized milk from a local creamery and heated it to 175-185 degrees Fahrenheit. The first time, I used the crockpot and it took quite a long time for the temperature to rise.
I've made three batches since that first one and used a Le Creuset Dutch oven set over medium heat the last two times. I found this is my preference because it warms to the correct temperature in 45 minutes to one hour rather than 3-4 hours.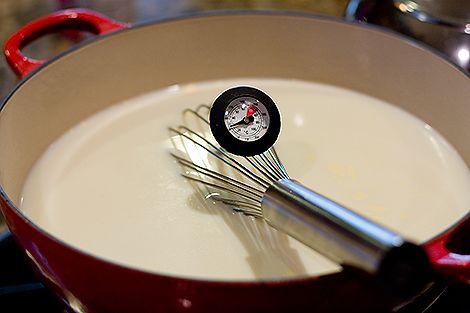 I think it is handy to use a thermometer with an alert on it so that you don't go over the temperature desired ...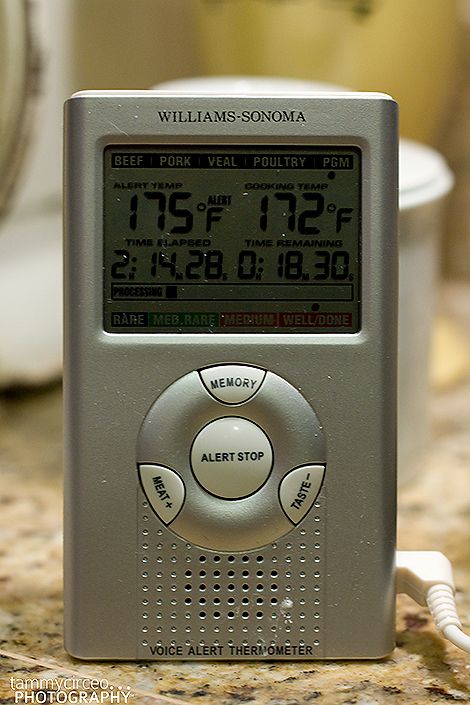 After heating the milk, cool it back to 110-120 degrees, then mix in 1/2 a cup of yogurt as a starter. You can also buy yogurt starters, but if you have yogurt with the good bacteria in it, it works just as well as specific yogurt starters.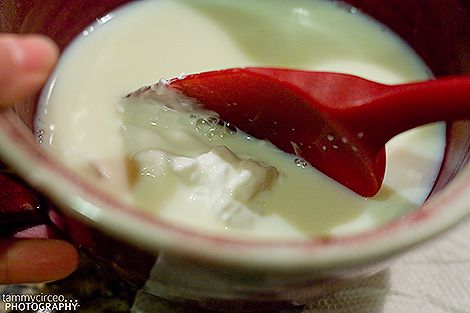 Then, it's time to leave it alone. Put the lid on it, and put the pot somewhere out of the way of a draft, wrapped in towels.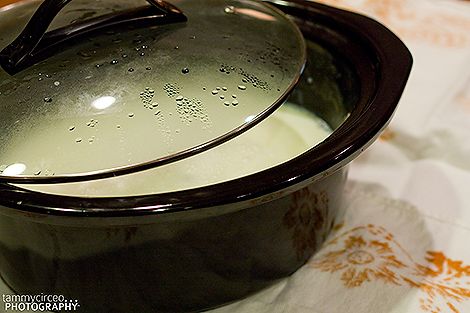 Some suggestions are to heat your oven to its lowest temperature, turn it off, then put the yogurt in there to keep it warm.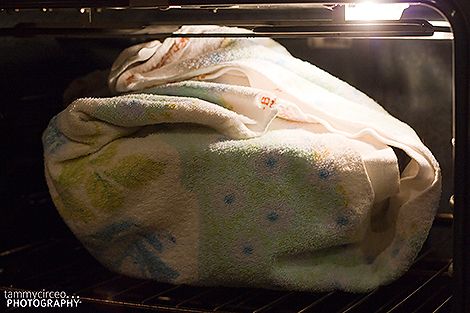 I did this, but since it was later in the evening by this time, I wanted to keep the temperature even while I slept and the oven was getting cold. I reheated my crockpot, turned it off, set the pot back inside, then wrapped it with my electric heating pad on top of the lid and under the towels. Ingenuity reigns!
The second time I made it, I kept it in the crock pot and its heating unit, wrapped it with a down throw and left it on the kitchen desk with the under-the-counter light on. I made it earlier in the day that time so I could monitor the temperature a bit more than the first time. Occasionally, I would turn the crockpot on to the "warm" setting just to maintain the heat.
Ultimately, the system that works best for me is to put the lid on the pot with the digital thermometer inside, set it on the heating pad set on medium ...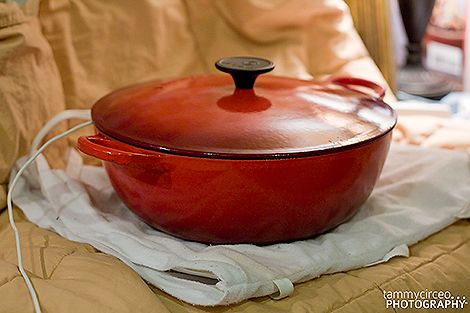 ... then insulate it with the down throw.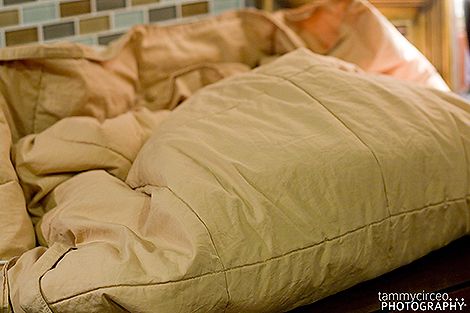 The only thing I checked during the 6-8 incubation hours was the temperature. I monitored that quite closely to be sure it stayed between 110-120, adjusting the heating pad setting as needed.
After 6-8 hours, you'll have a beautiful silky yogurt! I wanted a little thicker yogurt so I lined a colander with an old thin dishtowel and put it over the crockpot to let it drain.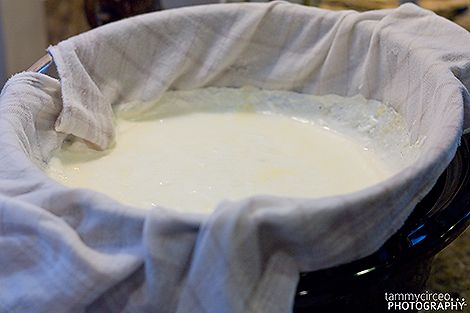 ... AND a half-gallon of beautiful, thick, Greek-style yogurt. It is so delicious that I can eat it without sweetener. However, feel free to stir in fruit, jams and jellies, honey, brown sugar, or maple syrup. Of course, it can also be used with great success in any recipe! I put my yogurt in glass jars that are fitted with a plastic lid, but you could use small canning jars in the serving size that your family enjoys, or in a larger container, too.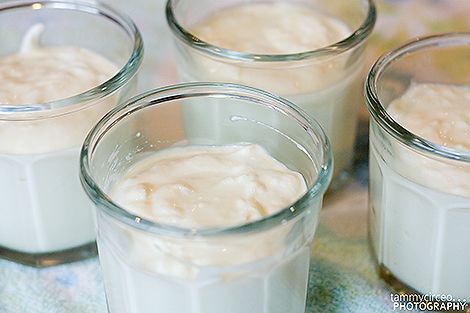 I mentioned that I have made four batches of yogurt. I made the first one with whole milk, the second with skim milk, third with whole milk, and the fourth with 2%. By far, my preference is the whole milk, not just for its taste, but also for the yield. Because I like a thicker yogurt, I like to drain it a little, but found that draining the skim batch yielded only 4 cups of yogurt, and the 2% batch yielded 6 cups, as opposed to the 8 cups yield from the whole milk. If you don't drain it, you'll have more of a yield. It is still very delicious, but thinner and more watery. In that case, just stir the yogurt before eating it ... just like you do with store-bought yogurt!
Happy yogurt making!