Pork tenderloin is one of my favorite pieces of meat to prepare. I like to season it, sear it whole on the stove, and finish it off in the oven while I make a pan sauce of some sort, sometimes with fruit and many times with a simple reduction of some sort. I have several recipes in my archives, if you care to check them out. I thought this would be a similar recipe, but it was just a bit different.
When Dorie titled this "fresh orange", she meant it! Four fresh ones, juice and zest from two of them and segments from the other two. And what a great time of year to use citrus in cooking!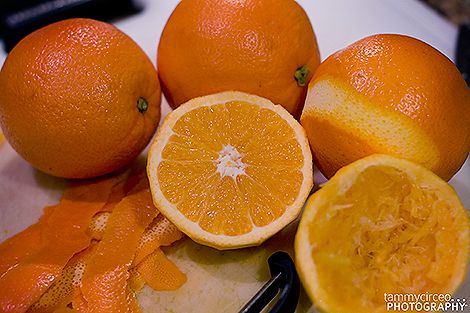 Because I don't have a zester, I cut the peel off the orange with a vegetable peeler and sliced it very thinly to make my zest.
This is where the "little bit different" happened. I so wanted to sear the whole tenderloin and put it in the oven because I have a real hard time cutting a beautiful tenderloin into medallions. It is so easy to overcook them and be stuck with a dry dinner. Since I've been such a rebel with the French Friday recipes recently (see the related posts at the bottom of this one!), I decided to stick with Dorie's instructions this week and cut the meat. I kept checking them to be sure they weren't overcooking before I added the orange juice, zest, and green onions. Then there was a 10-minute simmering time that really made me nervous ...
Dorie gave the choice of using onion, spring onions, or scallions and I opted for the green onions because I love how they looked with the orange!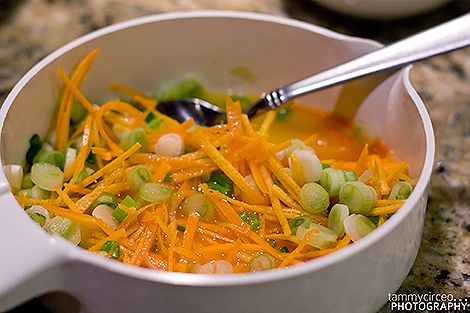 I also put my orange segments in this bowl ... because I loved how they looked next to the blue china. I'm pretty sure that puts me firmly in the "dork" category.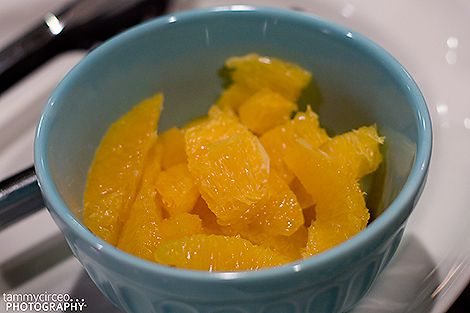 I felt the sauce could've used a little something more to round it out ... maybe like a hit of Grand Marnier, or a Bourbon maybe? Then it dawned on me that I had put in a miniscule amount of the cardamom called for since I didn't realize I was out! Still wondering, though, if the cardamom would've made that much difference. I seasoned generously and still felt it lacked a little something. I made a lovely celery root puree and some steamed broccoli to accompany the pork. The celery root puree was a wonderful match with the orange sauce!
Would I try this again? Sure, I would. Although the medallions didn't turn out too dry, next time I make it, I'll sear first and roast in the oven. ;) It's worth a comparison, right? Oh and I'll use the proper amounts of cardamom, too.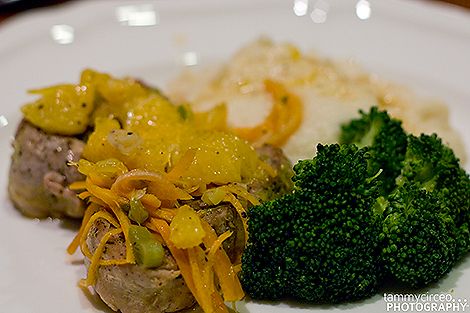 (If you're new around here or are wondering what French Fridays with Dorie is ... It's an effort to use one of Dorie's recipes from her cookbook Around My French Table each week. The recipes are decided on by popular vote on the website French Fridays with Dorie. Purchase your book HERE and play along! According to the rules of the group, I'm not allowed to post the actual recipe ... mes regrets.)