Having never eaten Coeur a la Creme before, I wasn't sure what to expect from this week's challenge. I suspected that cream was involved, but beyond that, I was clueless.
Yes, cream was definitely involved. So was cream CHEESE. And powdered sugar and vanilla flavoring. Those are the ingredients ... unless you choose to add a liqueur, such as framboise or dark rum. Ah, the decadence!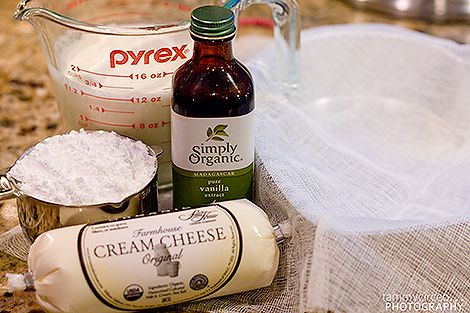 I started out by beating the cream and got distracted by sifting the powdered sugar and an episode of "Chopped" which means that the cream got way beyond the "soft peaks" point and more closely resembled butter bits. I always say you should find the silver lining so I continued to let it beat, quizzed my mom who grew up making butter about how to maximize this situation, and now I have about a 1/2 cup of fresh butter. That. I. Made. Cool Beans!
Unknown to me was the need for a special mold (God forbid I read a recipe through before I dive in with both feet!) ... with holes in the bottom so that any liquid from the cream or the cheese could drain out, leaving a more solid form of dessert rather than a watery version.
I don't own the special mold needed and as I've mentioned in other posts, I'm not one to purchase a gadget for one use. If I chance across one at the thrift store, I might pick it up for a buck or two. I chose to use my heart-shaped cake pan (that I have used maybe once before ... but I justify owning it because my mother-in-law gave it to me when she stopped decorating cakes). I draped cheesecloth in it, poured the mixture in, then folded the cheesecloth over it.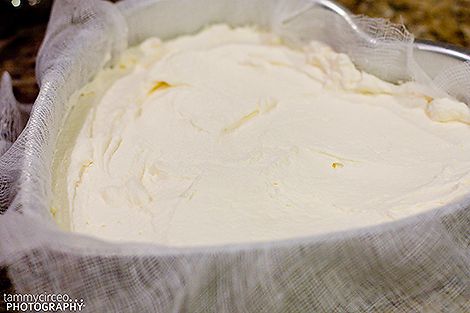 To help with the draining, I turned the cake pan over onto my grease splatter shield ...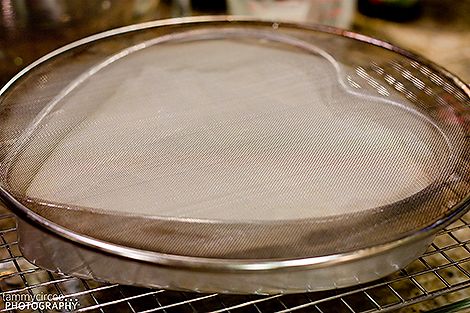 ... and put it all on a cooling rack on top of a Pyrex cake pan.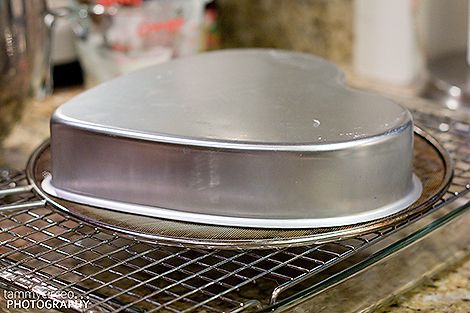 Oof ... and after all that, there was no drainage. Better safe than sorry, I guess.
I knew I wanted to serve it with a raspberry coulis, but really didn't do a great job at presentation. This looks more like a bleeding heart than one that beats with solid fervor.
But trust me, my friend, "solid fervor" is what this dessert is all about.
I only allowed myself three bites because my thyroid works too slowly to allow more, but my conclusion on this dessert is that it could be piled in a bowl and it would still be divine to eat.
Simply put, it is an excuse to eat a light cream cheese frosting and call it dessert! And that is A-OK in my book ... I love cream cheese frosting.
(If you're new around here or are wondering what French Fridays with Dorie is ... It's an effort to use one of Dorie's recipes from her cookbook Around My French Table each week. The recipes are decided on by popular vote on the website French Fridays with Dorie. Purchase your book HERE and play along! According to the rules of the group, I'm not allowed to post the actual recipe ... mes regrets.)