I'm a simple person. It doesn't take high-ticket items to get my attention or make me happy ... just things that are beautiful and speak to me. If they are useful as well as beautiful, I find them doubly attractive.
There are fewer things I enjoy more than looking through thrift stores, Goodwill stores, or antique shops to find treasures. I like finding some that are ready to be put back to use in my home and I also love finding things that can be repurposed and I usually have an idea of things I'd like to find. Here are a few of my recent discoveries:
These are a pair of Anchor Hocking hobnail milkglass glasses that I paid $.50 each for. They are just perfect for my morning juice ...
I bought this chair a few years ago and have wanted to get it reupholstered, but it has sat alone in the living room just waiting on me to get my ducks in a row. I've kept a basket beside to catch all the stuff that accumulates next to a living room chair, but really wanted a table to set a cup of tea on or stack my books on. The thrift store had this one on sale half off ... $12.50 later, my dilemma was resolved. I think the style of it has a name although I can't be sure what it is and the legs have tiny wheels on them. It's beat up a little which I don't really mind, but after I eventually reupholster the chair, I might decide to paint it. For now, I love how the huge white pitcher looks on the rich wood. (The pitcher was a garage sale find, too.)
I walked around a consignment antique shop the other day and found an amazing old postal box. You know, the kind with the brass doors on the front and the openings in the back? I saw the front first, then walked around to look at the back and perhaps find someone's name on a mail slot. Those kinds of things make me think of stories! I only found numbers, though ... AND these fabulous red-striped French style dish towels that are being used in many restaurants now as napkins. There was no price on them so we settled on $4. Steal! The tiny pie tins were sitting on the counter in a stack of many others and the owner and I were talking about them and how cute individual cobblers would be served in them. She ended up sticking them in my bag ... as a gift. Love when that happens.
The title of this cookbook would make me buy it if nothing else would! Eat, Drink, Live: 150 recipes for every time of day. Such a lovely title. On top of that, it is authored by Fran Warde who co-authored My French Kitchen and The French Market with Joanne Harris. Joanne Harris is also the author of Five Quarters of the Orange, Blackberry Wine, and among many others, the well-known Chocolat, which was later made into a movie starring Juliette Binoche, Judi Dench, and Johnny Depp.
I didn't buy this little storage unit, but I'm strongly contemplated going back to get it. At $28, it isn't really a bargain (unless I find out something cool about it later!). However, I love the color of it, it's all metal (of course), It's only about 8 inches wide and maybe about as tall ... it would be perfect on my worktable to house notions ...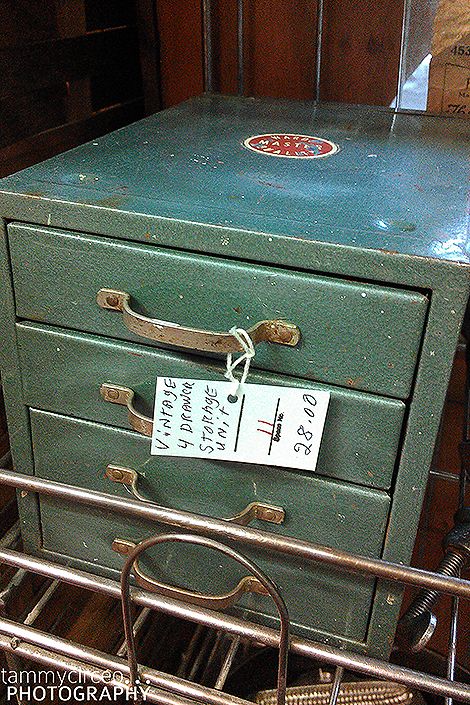 And then there was this painting which I didn't buy either. I posted a photo of it on Instagram and Facebook along with the caption "Mom used to have one of these prints." Many commented that they remember it from their childhoods, too, and even with the "lady" that was paired with it. At on $12, perhaps I should've bought it, but I don't know where I would've hung it. My aunt said the frame itself is worth $12 ... and she is probably right!
One last thing I found that I didn't buy is this china cabinet. I took a photo of it because it is very similar to the one I own! The feet, legs, and hardware are the same and the style matches mine as well although mine just has the bowfront drawers, is a little smaller, and has darker wood. They had a price of $385 on it ... not too bad, but I'm not in the market!
And lastly, the find I'm enjoying so much ... a 6 1/2 cast iron skillet. It was marked $12, but I was given a deal at $8. The only markings are "6 1/2 INCH SKILLET" on the bottom, a number "3" and the letter "Z". There are no manufacturer's marks. On eBay, they go for anywhere from $8-18, unless they have manufacturer's marks, like Griswold. Griswolds this size are $50!
I scoured it, reseasoned it, and every morning since, I've made my egg in it ... it's just perfect for eggs for one!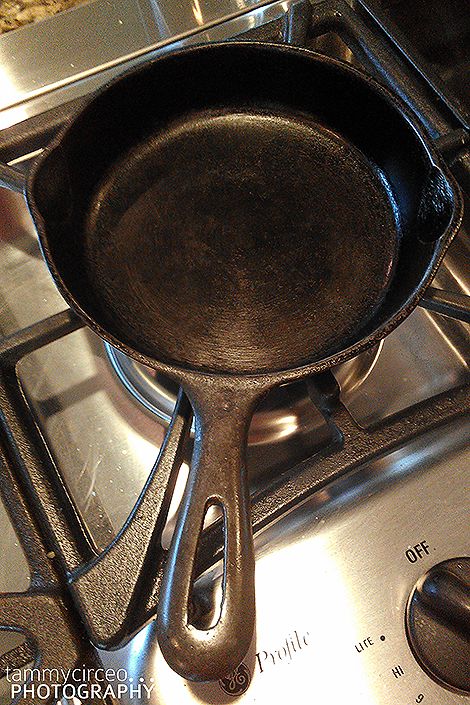 There you have it! Do you like to hunt for treasures? What kinds of things do you find?!