After my fiasco with Dorie's recipe last week, I was happy to see that this week's recipe was simply cooked apples.
At least, I thought they were simply cooked apples until I read the recipe.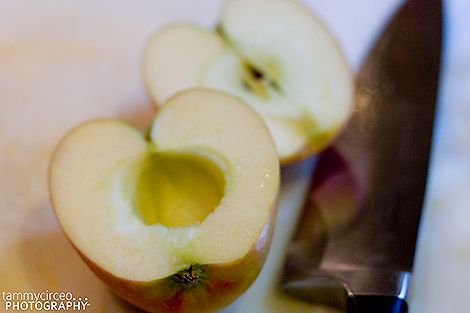 I don't like using a mandoline to cut fruits and vegetables that are hard because I'm always afraid of cutting myself. I prefer using my chef's knife and as long as it is sharp enough, it does the job quite well.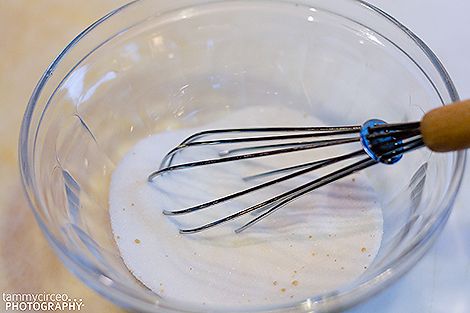 I layered the apples in a bit of a cross-hatch pattern, drizzling a little melted butter on each layer and sprinkling with sugar that was flavored with ginger and a pinch of cardamom. I stacked them fairly high because I knew they would reduce a lot in size as they cooked.
The next instructions were unlike any I've ever read before. Dorie said to wrap the ramekins in plastic wrap first, then in aluminum foil before baking. She said that since the oven is at such a low temperature, the plastic wouldn't melt. I almost skipped this step, but decided to go for it ... the plastic shrank up a bit, but didn't melt. I was surprised!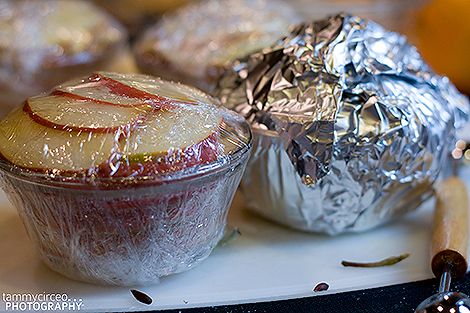 The end result was layer upon layer of thin, juicy apples ... and they were simply cooked. They were the perfect ending to a meal on a very cold winter's night.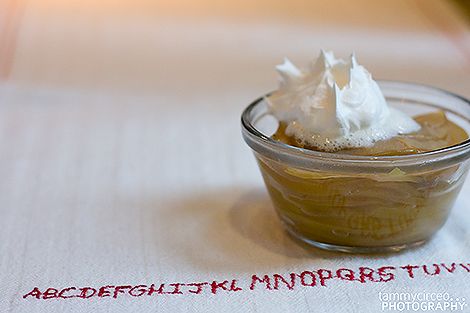 (If you're new around here or are wondering what French Fridays with Dorie is ... It's an effort to use one of Dorie's recipes from her cookbook Around My French Table each week. The recipes are decided on by popular vote on the website French Fridays with Dorie. Purchase your book HERE and play along! According to the rules of the group, I'm not allowed to post the actual recipe ... mes regrets.)