Have you ever heard the phrase "a month of Sundays"? It is an expression that refers to a long period of time ...   perhaps even suggesting a long dreary time since games and other kinds of amusement used to be forbidden on Sunday.
This month of French Fridays has been a "month of Sundays" for me. I failed miserably with the spaetzle. I didn't even attempt the chicken livers with pickled onions last week because *I* am a big chicken. 
And now this week, the recipe isn't even French and I couldn't find the right mushrooms! I bought bunashemeji (Beech mushrooms) instead because they sounded Asian, but nothing like the description I read online of the requested Chinese tree ear mushrooms. They were fresh, too, not dried as the recipe called for. But aren't they cute?!
They are such cozy crowd of toadstools!
Mushrooms aside, I thought my biggest challenge in this recipe would be the cellophane noodles and not because I wouldn't be able to find them. My grocery store has almost a whole aisle full of cellophane noodles! I've tried other recipes with them and have been rather unsuccessful because the instructions on the packages are either only in kanji or translated word for word from Chinese or Vietnamese or whatever other exporting country they come from. I don't read kanji, needless to say, and the instructions are confusing at best. I've usually met with failure. Dorie to the rescue! She instructed to soak them in hot water for 10 minutes first, toss them with a little sesame oil, then slip them into simmering water on the stove for about a minute. They were perfect! She should write the instructions for the packaging!
I have an iron wok that my second mom gave to me when I first got married. She said, "I don't know how to use that thing! I have no idea why I bought it." I have so enjoyed it and there's no better instrument to make stir-fried foods in. I'm fortunate to have a gas stove so I remove the grate, and put the wok on the aluminum ring that came with the wok causing the flames to touch just about every part of it. It gets very hot very quickly, and the stir-fries always cook easily. For this reason, I use grapeseed oil (it has a high heat point) and always prep everything ahead of time, making a mental list of when to put in the ingredients. There's no time to double-check the recipe when the wok is that hot.
The onion goes in first, then the mushrooms and garlic, following quickly by the seasonings (Chinese Five-Spice, sugar, and cayenne), then the shrimp. The sauce was made using tomato puree which seemed quizzical given that it is an Asian recipe. The recipe called for two whole cups of puree, but I only used 1/4 cup and didn't miss the rest. Using a reduced amount than what was called for allowed the Five-Spice and cayenne to be the predominant flavors rather than the tomato and that took the "quizzical" out of the equation for me.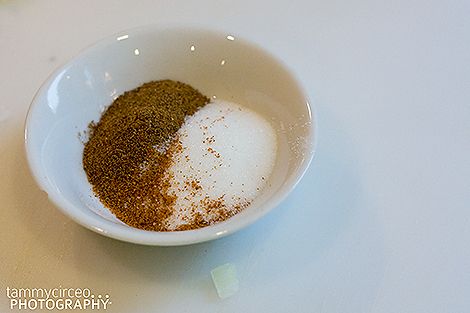 So it wasn't French. So the mushrooms weren't "right". So I added a squeeze of lemon before serving (because I had no limes). So it tasted more Thai or Vietnamese to me than Chinese ...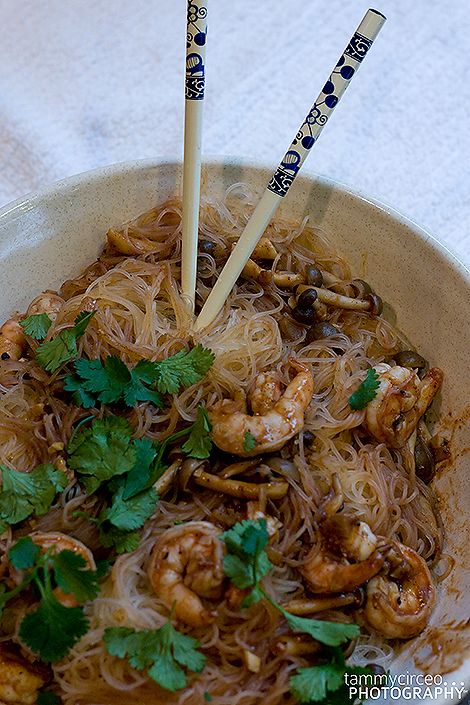 Undoubtedly, this recipe is not of French origin, but rather is included in the cookbook Around My French Table because it fits the description of being a food Dorie was served in France by her French friend and that is "AROUND" Dorie's French table. I'm okay with that because I believe that no matter what country you live in, no matter who your neighbors are, no matter what your culinary differences are, you should always enjoy good food, good company, and good times.
(If you're new around here or are wondering what French Fridays with Dorie is ... It's an effort to use one of Dorie's recipes from her cookbook Around My French Table each week. The recipes are decided on by popular vote on the website French Fridays with Dorie. Purchase your book HERE and play along! According to the rules of the group, I'm not allowed to post the actual recipe ... mes regrets.)