Do you watch Downton Abbey? It is a PBS series that shows the life of an upper class family in England in the early 1900s. The push and pull of old aristocracy coupled with the changes the war brings and maintaining English tradition is enough to bring some houses down, but also enough to motivate others to longevity. Downton Abbey is filmed in a real life castle that still has a real life family living in it and pulls its stories from that family's long history. Their story is being told HERE.
Hang with me ... I'm going somewhere with this introduction ... We're no Downton Abbey family, but preserving our story is just as important as the big houses.
My "one little word" this year is FOCUS and I promised you a few Focus Features here on the blog. One area of focus for me is "preserving our stories".
I've always preserved memories by taking photos ... even when all I had was a camera with film and a flash bulb! Our Mama Trudy was diligent about preserving stories and since her passing last year, I've been so grateful for her scribbled notes on photos, her handwritten dates on crayon drawings that we grandchildren masterpieced for her, for her recipes, for her hand written Scriptures as she attempted to memorize them, for her letters ... I've named her our family's first scrapbooker because of the notebooks full of photos she kept with captions as to who was in the photo, where it was taken, and the date. Her diligence is so valuable to us now.
The generation following ours might not know the "story" behind the photo they find in a box in the attic ...  which leads me to believe that words must accompany those photos. I choose to scrapbook and document here on my blog in order to keep those stories true and accurate for my kids, grandchildren, and if I'm fortunate, great grandchildren. You might find it easier to jot notes on the backs of photos (please use an acid-free pen). I have a friend who is a busy mom with two boys and she has a blog simply for uploading photos with notes and printing it out in book form at the end of each year.
FOCUS: on how to get those photos and words together in one place ... I asked the team that I serve on at JessicaSprague.com what their methods were for getting this done on a regular basis. Some confessed that being on Creative Teams for designers was motivation, but most of us lamented that we didn't do it as faithfully as desired. There was, however, one piece of advice I totally took to heart. It was "Make a list of the photos you'd like to document in scrapbooking as you go along. The list will motivate you and keep you on track."
Being the list maker that I am, I'm not sure why this idea didn't enter my mind already. It fits my modus operandi to a "T" and I've implented it already. Let's hope it sticks.
These two pages are photos of a day Aly and I spent in Seattle between Christmas and New Year's 2012. It was a lovely afternoon that I'll remember for a long time ... I hope forever.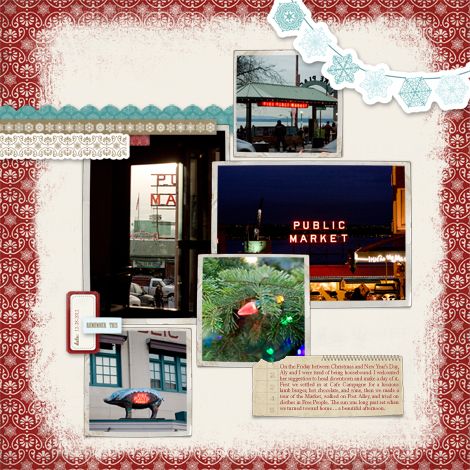 [Credits: Cartabella Winter Fun + LynneMarie White Linens PhotoMask, KPertiet PhotoClusters No. 12-1, KPertiet Journal Spots4-5A]
{Journaling: On the Friday between Christmas and New Year's Day, Aly and I were tired of being housebound. I welcomed her suggestion to head downtown and make a day of it. First we settled in at Cafe Campagne for a luscious lamb burger, hot chocolate, and wine, then we made a tour of the Market, walked on Post Alley, and tried on clothes in Free People.  The sun was long past set when we turned toward home ... a beautiful afternoon.}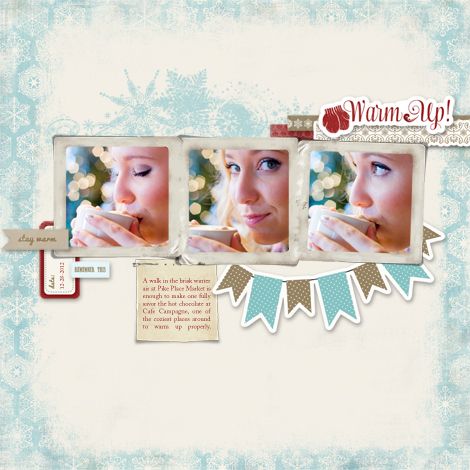 [Cartabella Winter Fun kit + LynnMarie White Linens Photo Mask, CarinaGardner Essential Frames v1-5, NRJ Merry Merry Stamp 5, Kpertiet Journal Spots-1]
{Journaling: A walk in the brisk winter air at Pike Place Market is enough to make one fully savor the hot chocolate at Cafe Campagne, one of the coziest places around to warm up properly.}