Brussels sprouts are not usually on the list of foods most people like, much less crave, but I've never had an aversion to them. I usually saute them in a cast iron skillet with olive oil (sometimes bacon) and season them with salt, pepper, and maybe some garlic powder. If I'm particularly adventurous, I will make a mustard cream sauce to dress them with.
In a recent bout of laziness, I learned that roasted Brussels sprouts might be my preference. Especially, with a little brown sugar tossed in. Just a small amount cuts through the slightly bitter characteristic of the sprouts and the roasting mellows everything out so nicely.
Trim and quarter 1 1/2 - 2 pounds Brussels sprouts. Season with salt and pepper, toss with a couple of tablespoons of olive oil and 1-2 tablespoons of brown sugar ...
Put on a baking sheet in one layer and bake in a 400 degree oven until caramelized and tender.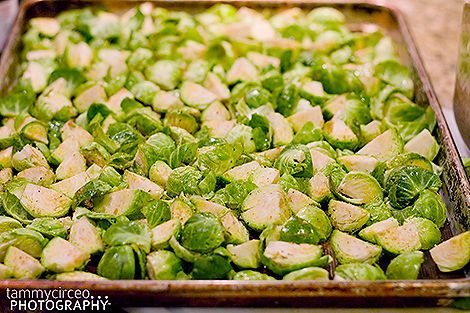 Deliciousness!