As Winter's chilly days make us feel our bones more and our fingers less, our thoughts are often turned to something piping hot and comforting for dinner. Just as soupe a l'oignon a la lyonnaise was once the affordable and nourishing repast for the silk workers in the city of Lyons, France, it is just as restorative for us today.
I've had many bowls of French Onion Soup and it seems that as many bowls as I've had are as many methods (and different ingredients) to making this soup. It really is a simple soup, but various recipes call for different stocks, some call for herbs, others for purple onions (WHAT?!), and the quantity of onions varies quite a lot from one cook's version to another. 
I consulted several online sources and a myriad of French cookbooks. I know how French onion soup is supposed to taste so I picked and chose my ingredients and quantities based on that. What I came up with was a recipe of my own.
I used four pounds of yellow onions. That's about 4-5 large ones and using less than that yields a "broth with a little onion". In my opinion, that's not an "onion soup". I cooked them in an equal mixture of olive oil and butter, on very low heat, for about three hours along with three large garlic cloves. Because of all the simmering time, this is a fabulous soup to make on a lazy Sunday afternoon!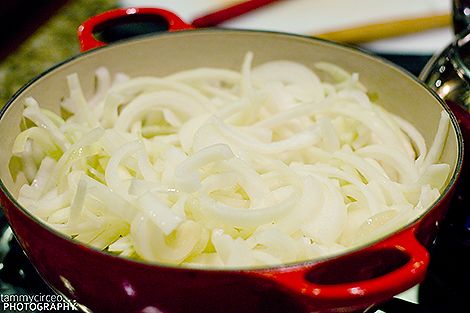 After they cooked down and caramelized, I sprinkled them with flour and cooked it, stirring all the while for about a minute. Beef broth (NOT chicken) is the proper broth because that dark color is the best. After adding white wine, thyme, and bay leaf, I simmered it again for another 45 minutes to an hour. These lovely, traditional lion's head bowls are the perfect individual serving vessel, but any oven-proof bowl will do. The preference is that it be deep rather than wide.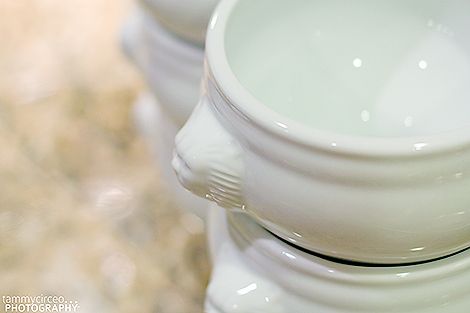 Cognac, onions, and beef broth love each other so I put a teaspoon of Cognac in each bowl and spooned the hot soup in. You know the taste is altered, but you have no idea why!
After cutting crunchy bread, I toasted it, then floated it on the soup, and topped it with grated Gruyere cheese. If you can't find Gruyere, use a good, sharp Swiss cheese. Typically, the bread would be even with the top of the bowl and the cheese would be on top and melt over the sides, but my bowls are quite large and I didn't want to ladle in more than we would eat in a serving.
Stick it under a broiler until the cheese is melted, bubbling, and crispy brown on the edges.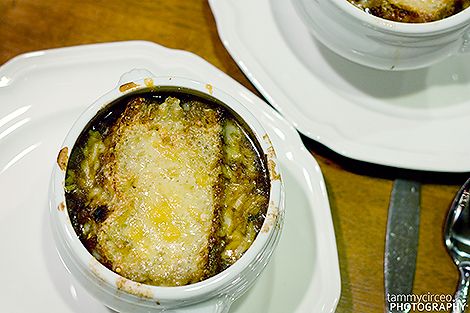 The bowl, soup, and cheese toast will be extremely brulante ... very hot. So be careful not to touch the bowls and eat slowly so the soup cools gradually as you leisurely work your way to the bottom of the bowl.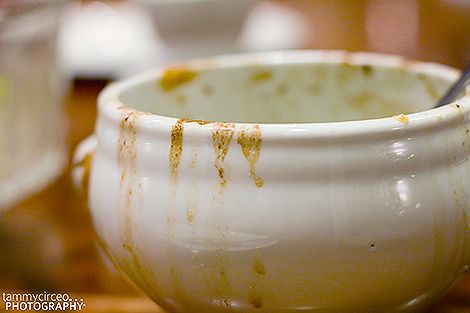 We found this to be a complete meal (with a green salad course), but you could also have a cheese course, and fruit for dessert. What a lovely winter meal.
Here's my version of French Onion Soup ... as I recall the taste of Mom's and the French cafes.