Just like the Brussels sprouts of the previous post, I've never been averse to cauliflower. At least that I can remember. Mom used to make it with cheese sauce when we were kids. Even if it was a ploy of hers to get us to eat vegetables, I loved it and ... it worked.
Furthermore, my waistline loves cream soups without the cream so I knew this would probably be a winner in my book. Onions, celery, and garlic are caramelized first, then the cauliflower is added along with chicken broth and it is all cooked until it is soft. The food processor makes an easy matter of pureeing this soup to the proper consistency, but you could use a blender or immersion blender as well.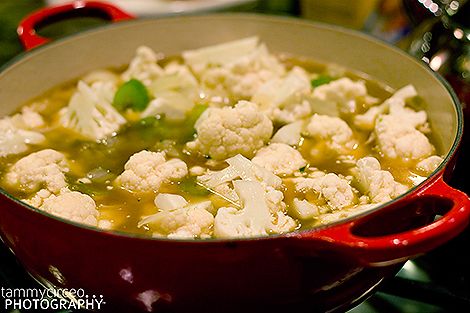 I was sure the taste of the soup itself would be wonderful, but since Dorie suggested adding mussels to it, I couldn't get the idea of curried mussels out of my head. I used her recipe for the mussels which has a little cream, but since I only used one pound of mussels rather than the FOUR called for, the cream was minimal. It was a marriage made in Heaven.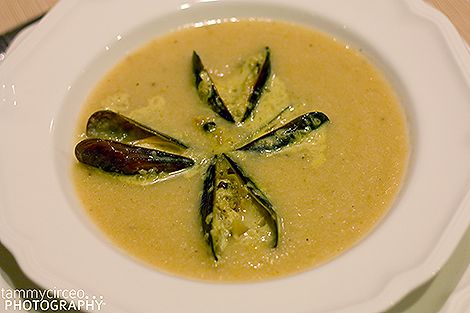 Even though I only used a pound of mussels, it was plenty for the three of us left in the roost.
What about you? Do you like cauliflower? Mussels? Curried Mussels with Cauliflower Soup?
If you're new around here or are wondering what French Fridays with Dorie is ... It's an effort to use one of Dorie's recipes from her cookbook Around My French Table each week. The recipes are decided on by popular vote on the website French Fridays with Dorie. Purchase your book HERE and play along! According to the rules of the group, I'm not allowed to post the actual recipe ... mes regrets.)