I'm not a morning person, but I bid you "Good Morning".
I'm not married to a morning person, but we always mumble "Good Morning" to each other and then share a hug.
I didn't give birth to morning people, and we choose when to mumble "Good Morning". Hugs are usually more welcome than greetings. 
We non-morning people have to get up, face the day, and nourish ourselves just like all of you bright-eyed and bushy-tailed people so I'm always looking for ways to provide morning nutrition that requires little-to-no-morning-effort on my part. Cereal may not be the ultimate in nutrition, but it was my go-to option for many years simply for the fact that the kids could grab it off the lowest shelf in the pantry, pour it in their own bowls (also on that shelf), and top it with milk (on the bottom shelf of the fridge). Everything had its place on purpose. I tossed a piece of beef jerky to them on their way to the school bus just for the protein.
Of course, I kid! [Ken makes a mean beef jerky, though, and there's no kid of ours who would refuse a piece of it ... EVER!]
I grew up facing oatmeal most mornings and although my parents provided lovely honey, syrup, brown sugar, butter, cinnamon, and cream to doctor it, it was my morning nemesis. I didn't care for the texture and to this day, it has to be made just right for me to be able to choke it down. Like my Ben says, "It's not the taste ... it's the texture."  
Aly came upon this recipe recently and sent it to me ... Meyer Lemon Blueberry Baked Oatmeal. I can be tempted to try anything that includes Meyer lemons.
I made few changes, and it seems to be a winner.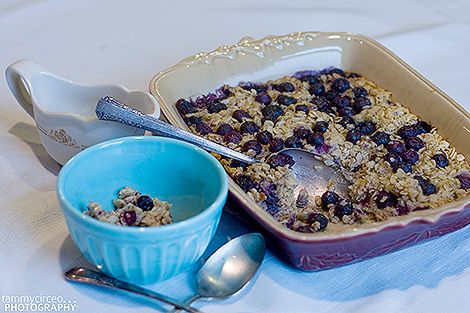 Make it, then refrigerate it for multiple breakfasts throughout the week. Double, triple, or quadruple the recipe to match the mouths you are feeding. :)