"Hand-Pie?" What is that?!
Apparently, pies became popular because "pastry + any/every thing = yummy". Fruit, meat (4 and 20 blackbirds ... baked in a PIE), vegetables ... I would eat pastry with nothing inside but air!
And a HAND pie ... well, if it's easy enough to dish out of a pie pan, how much easier is it to eat "out of hand"? That's my explanation of HAND - PIE. No fork necessary, but you might want a napkin nearby.
I found this recipe in November's issue of Bon Appetit, and changed only a couple of things. I'm not an avid fan of cranberries, but their photo made me want to taste it.
The pie filling was, of course, cranberries, combined with sugar, fresh orange juice, orange zest, and vanilla bean. After reading that, I felt pretty sure that I couldn't go wrong. I made both the crust and the filling one afternoon, refrigerated it all, then rolled the pies and baked them the next day.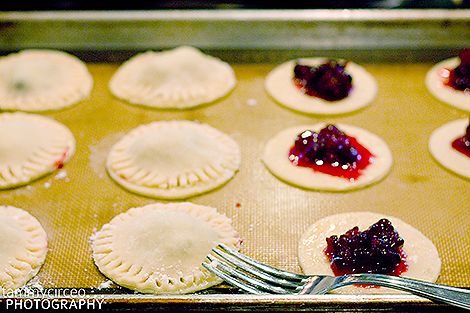 The crust stumped me from the beginning. It called for more butter than I thought necessary and huge amounts of flour ... I wasn't sure how it would all turn out. I'm a believer in trusting the recipe developer so I abided by the rules ... loaded in the flour and so.much.butter.
It required chilling and when I brought it out to roll, I initially tried to roll it between sheets of plastic wrap. I don't know if it was because I used spelt flour or because the dough is soft by nature, but I added copious amounts of flour (at least another cup in all ... bit by bit) to make it less sticky, more malleable, and easier to move to the baking pan.
Once rolled out with extra flour, it behaved nicely and I was able to cut nice little circles of dough, fill them with cranberry filling, and top them with another dough circle. The recipe suggested cutting 3-inch circles and instructed to cut 16 circles, 8 for the bottom and 8 for the top. I used a 3-inch cutter and ended up with 24 hand pies (that's 48 circles!) and enough dough leftover for probably a dozen more. There's a disconnect somewhere.
I pressed the eges closed with a fork ...
A little egg wash, a sprinkling of raw sugar, and few minutes in the oven ... Oh my, the house smelled like a French bakery with that unmistakable buttery fragrance.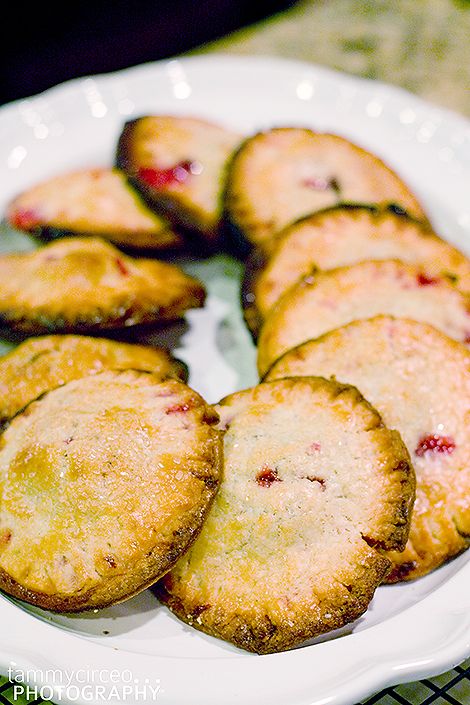 You probably don't think you need one more suggestion for your Thanksgiving table and you are probably spot-on right about that. However, I'm convinced that these little packages of awesomeness will be a great addition to your holiday weekend and I know you'll be tempted to describe them as my neighbor did ... "Irresistibly yummy!"
You can find Bon Appetit's original recipe HERE or you can Download Cranberry Hand Pies according to how I made it.