Pesto is a super simple herb mixture to make. I say "herb mixture" because it can be made with a variety of herbs and nuts. Classically, pine nuts are used and I sure love those, but walnuts are almost as common and just as delicious. To broaden the flavor profile, you could toast the nuts, but I usually keep it as simple as possible.
The basic ingredients for a basil pesto are of course, basil, then walnuts (or pine nuts), parmesan cheese, garlic, lemon juice, and olive oil, seasoned with salt and pepper.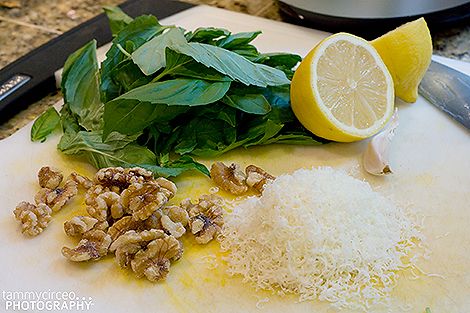 My food processor works better than my blender at getting everything mixed up well, but whichever machine you prefer is up to you.
Pesto can be stored in the fridge in a glass jar for about a week. Although the lemon juice helps keep the basil from browning, make sure there's a thin layer of olive on top, too. Pesto can also be frozen, which is really handy. I've read that if you plan to freeze it, you shouldn't make it with the cheese, but I don't think it makes a huge difference. In fact, I usually make it intending to use it, then realize that I should go ahead and freeze it rather than letting it go to waste!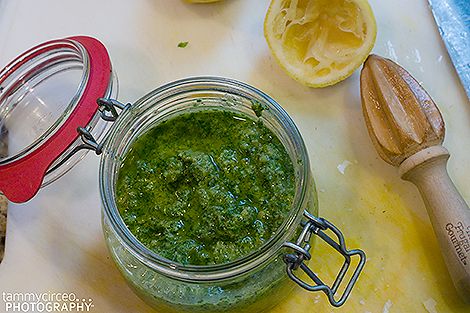 Pesto has all sorts of wonderful uses: tossed with pasta for a quick lunch or dinner, marinating chicken/fish, accompanying eggs (think how yummy it would be in an egg salad sandwich!), mixed in a vinaigrette for salads, tossed with roasted tomatoes to accompany a steak ... the possibilities only limited by your imagination.

Download Basil Pesto

Next up ... a recipe for baked chicken pesto! Let's put this to good use!