The leaves deceived me. The cool evening temperatures deceived me, as did the crisp mornings. Just when I thought Fall upon us, the weather forecast suggests that it will be close to 90 degrees on Friday. It's rare for us to hit 90 on any given summer day, much less a day in September.
How do I handle this news? Well, of course, I just keep grilling. :)
And this time, it was vegetables for salsa verde: tomatillos, Hatch chiles, poblanos, onions, jalapenos, and green peppers.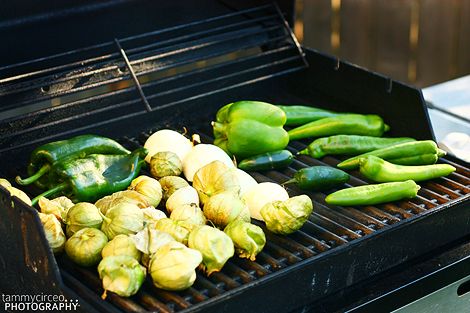 Some people don't grill tomatillos in the outside casing, but I like to because it helps preserve some of the juice that forms when they get softer. I just peel the charred part away after they cool a little. The peppers are put in a large bowl under plastic wrap until they cool enough for me to handle, then I pull the skins off.


Then it's a whirl in the food processor for everything to get nice and chunky. With the amount of veggies I used, you'll end up with about a quart and a half, but of course, you can always just grill the amount you need. Keep in mind that the freezer is a great place for leftover salsa, too!