Emily and I were walking through the store trying to create the evening's menu as we walked. We had some good ideas, trout being among them. Just as I stepped to the fish counter to ask for the trout, Emily came running over with the recipe from the test kitchen and said, "Mom, THIS is what we're making tonight! It's SO good!"
What could I do but agree? Pork tenderloin was on sale and nectarines are in season ... win-win.
Grilling fruit is a wonderful way to bring out the sweetness and drizzling a quality balsamic vinegar on them first makes them that much more scrumptious. I used an 18-year aged Fig Balsamic that was a gift to me. It was wonderful!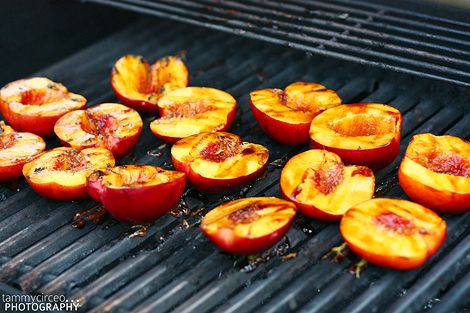 The recipe suggested using pork loin chops, but I bought pork tenderloin and grilled them in larger pieces. After doing so, I realized why you would want the smaller, thinner pieces ... and that is because the balsamic marinade will likely burn before the meat is cooked through. Still tasty, but not quite what is intended. This dish cooks quickly, but plan to put the pork in to marinate while you run Junior to soccer practice. By the time you get home, you can grill it all up really quickly.
You can find the original source for the recipe HERE or, as usual, I've typed it up for you with any adjustments that I made.
Download Grilled Pork and Nectarines in a Balsamic Marinade