My life has not been the typical American girl's life. For starters, even though I was born to a Texas-Virginia parental combo, I spent most of my growing up years in Europe with an 18-month stint in the Sahara Desert where I had my 6th birthday. That's one I will never forget! I often longed to be a "normal" American girl especially in my teen years, but in my next thought, I remembered how many people in the US expressed jealousy that we lived overseas and I realized how many years most Americans saved their pretty pennies to experience for only a couple of weeks what I lived day-in and day-out. I happily accepted that I should be grateful for where I was and what I was experiencing.
I heard of American high school graduates taking senior trips with their class ... to Disney World, Epcot Center, Broadway ... if they were lucky, they went overseas. 
I didn't expect to have a senior trip. After all, I graduated alone. And I was already overseas! My brother had graduated the year before me, but stayed home till I finished. Because of our dad's work, he was asked to come to Germany for meetings and our parents planned a family trip around that invitation from where we lived at the time (Spain), up through France to visit friends and see the battlefields and American cemeteries in Normandy, into Germany, and back through Switzerland and France again and back "home" to Spain. (I might have the order of that trip out of whack ... I just don't have time to look up those photos at the moment!) I think you'll agree with me that we made out like bandits with a trip like that, right?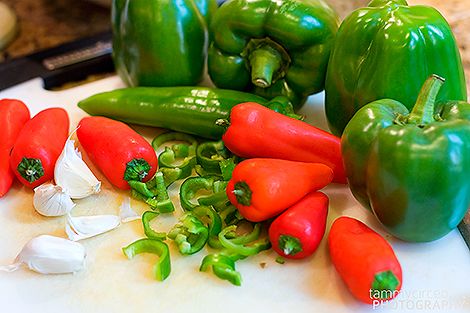 I remember vividly our travel through the Basque region of Northern Spain and Southern France. The language was a mix of Spanish and French and even though we only spoke French fluently, we could still make out everything being said because of our exposure to Spanish. The geography was beautiful ... mountains, winding roads, wild horses grazing on the hillsides, houses both small and large dotting the countryside, homemakers slinging dishtowels full of freshly washed lettuce out of their kitchen windows or off their balconies to rid it of water, driving through small villages and seeing beret-fitted elderly men sitting at cafes having afternoon coffee (or maybe a little something else, too?) ...  
Little did I know about the favorite spice of the region ... piment d'espelette. I learned about it just a few years ago and felt a little sadness that I had no knowledge of it before! It's not super spicy ... in fact, I would say that it isn't spicy at all. It has a smokiness and subtle flavor that is a perfect pairing to onions, garlic, tons of peppers and tomatoes all cooked down into what is called a "piperade". It's almost like a chili powder, but certainly not spicy as we typically think of American chili.
In this week's recipe, Dorie uses the piperade to cook chicken in. She suggests a full chicken, cut up, or chicken thighs. I think it would work as well with bone-in chicken breasts and I should've taken my own advice because Ken would've liked it better. [He's a "thigh man", but not where chicken is concerned. ;)]
I seasoned the chicken with salt, pepper, and a bit more piment d'espelette, then browned them in a cast-iron skillet before tucking them into the piperade to cook low and slow for about 40 minutes.
It was immensely tasty ... saucy, full of flavor, and rounded out with a bit of rice. Everyone agreed that it was good, but I think if I make it again when Ken will eat it that I will cut the peppers and tomatoes smaller than Dorie suggested. He liked the flavor, but didn't like the larger pieces that the recipe called for.
Dorie's "Bonne Idee" was fabulous! I saved some of the piperade in a gorgeous French canning jar. The next morning, I scrambled an egg and nestled it in the middle of the warmed sauce. That beats oatmeal out of the water, my friends!
If you're new around here or are wondering what French Fridays with Dorie is ... It's an effort to use one of Dorie's recipes from her cookbook Around My French Table each week. The recipes are decided on by popular vote on the website French Fridays with Dorie. Purchase your book HERE and play along! According to the rules of the group, I'm not allowed to post the actual recipe ... mes regrets.)