Chutney is something that deserves its own definition. It's neither a sauce nor a jam, and yet one would consider using it as one or the other. It's both sweet and savory and to identify it as either would stump the most elite of palates.
I found this recipe in Bon Appetit's August 2012 issue and while I'm renowned for trying recipes that were published ten years ago, I knew that I wanted to try this one right away.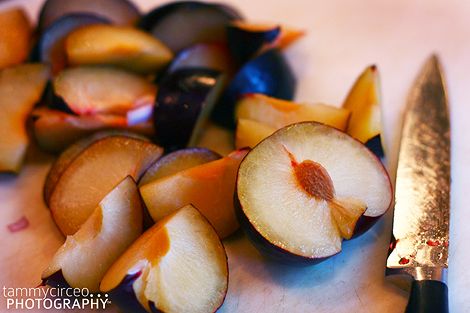 I love plums ... especially the dark ones because the skin is so dark, but the flesh is so blond and sweet. I find them very beautiful. The seasoning for the pork is fresh rosemary and herbes de Provence ... a match made in Heaven if ever there was one.
As if enough heavenly hosts weren't called upon with the herbs, prosciutto is also brought on stage to star in a performance almost beyond its capabilities.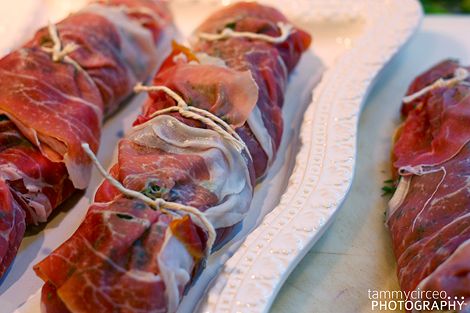 The pork tenderloin is wrapped in prosciutto (make it di Parma, if possible, but a good domestic will do a great job, too), tied up with twine, and grilled. Prosciutto-wrapped tenderloin loves the grill! The prosciutto gets nice and crispy and the tenderloin is moist and absolutely wonderful.
When I told the family that we were having Plum Chutney Pork, they all thought I was describing how good the pork was going to be! This is why: I come from Southern heritage and a way to describe tasty morsels down there is to say, "It's PLUM GOOD!" I can't be sure that plums were ever involved in the formation of that phrase, and honestly, no one probably knows how they became involved! Although my husband is from New England, was raised overseas, and had little contact with the South before he knew me, ... and although my kids have been raised away from the South ... they still know what "plum good" means! Mama made sure of that. :)  
Topping pork tenderloin with a plum chutney makes it "plum good" in my book!
Then again ... topping it with ANY chutney would have me doing a few cartwheels. (Alright .. Hush YOU! I could do a carwheel if I wanted to! I just choose not to embarrass my family.)
 Scroll past the photo for a download of the recipe.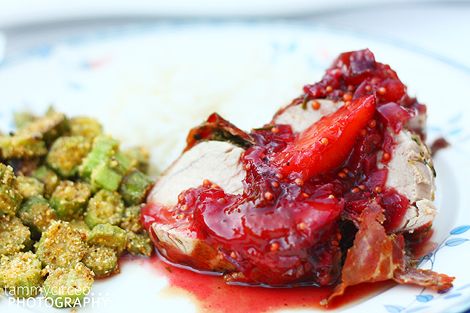 Bon Appétit!