Fried chicken is as much a part of my culinary heritage as Soupe a l'Oignon or Boeuf Bourguignon. Both of my parents were raised by Southern farming parents. Shoot ... my mom used to PLUCK the chickens she fried.
Thank goodness, I didn't have to do that and I enjoyed the French twist to this more healthful recipe ... Dijon mustard! The credit for this recipe goes to Bob and Melinda Blanchard of Blanchards Restaurant in Anguilla. They are originally from Vermont, but chose to get out of the rat race and pursue the dream of living on an island by opening and running a restaurant. Kudos to them! I came across their cookbooks a few years ago and am continually struck not only by the simplicity of the recipes, but also the authentic, wholesome flavors.
The batter (of sorts) for this chicken is two mustards, a little cream (you could substitute milk for a calorie-saving option), and eggs.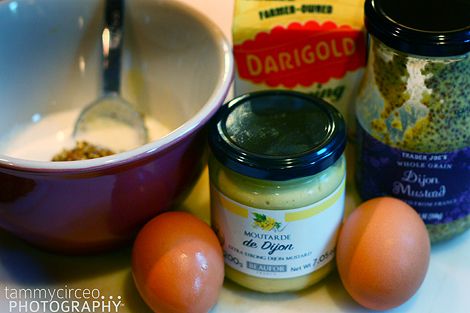 Cut the chicken in half horizontally so that each piece is about 1/4-inch thick. If you'd rather pound it out, then have had it!
Dredge the chicken in flour seasoned with salt and pepper.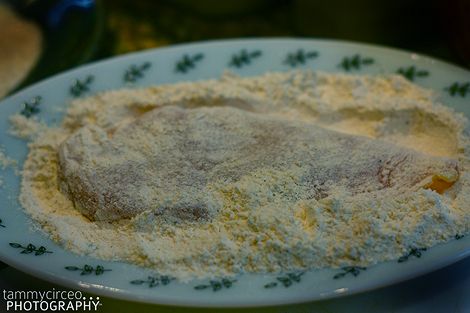 Then dip it in the mustard mixture ... you might have to scrape some off because it goes on pretty thick.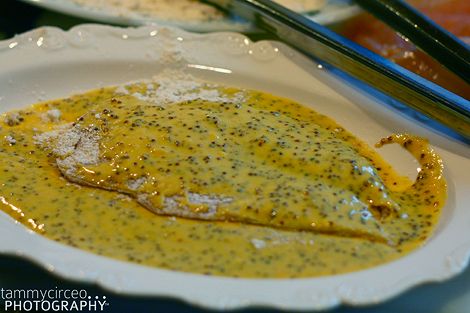 Finally, coat it with bread crumbs (no photo ... cuz the hands were a mess). You could use store-bought, or put some bread in your food processor and make your own, or you can use Panko ... which I love!
Sauté it in a skillet with a little olive oil and serve it up with a homemade Caesar salad and a squeeze of fresh lemon.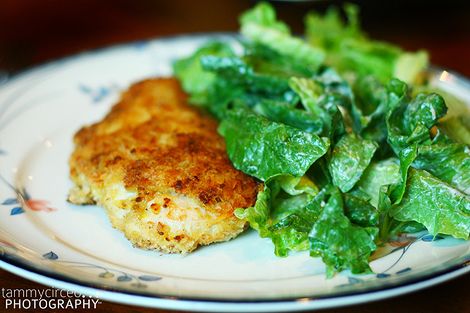 Now that's some good eats, folks! Bon Appétit!