Pike Place is always bustling. It seems that anyone who comes to Seattle to visit goes to the Market ... and so they should. It's a great place to be! The vendors seem almost surprised to learn that we live here.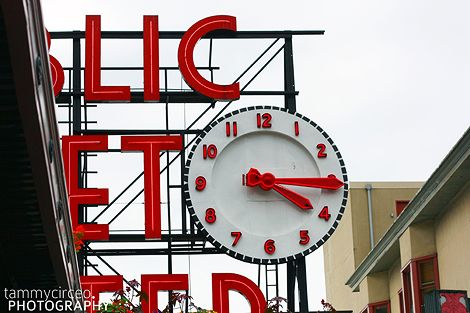 Although we can buy wild salmon just about anywhere, we drove down to get it at the Market because Ben wanted me to ship some to Nebraska for him to make for his summer host family before he comes home. He's so excited to bring a bit of the NW to the cornfields of NE! And if there's anything he has learned in his first year of college, it's how to churn out some pretty good chow.
If you're brave enough and don't mind a little fish smell on your hands, Isaac at Pure Food Market will let you hold one. I don't know how heavy this one was, but I'm guessing 15-20 pounds? Aly was full-on ready to do it, then had to get over the fact that her left hand had to fit inside the fish's gill!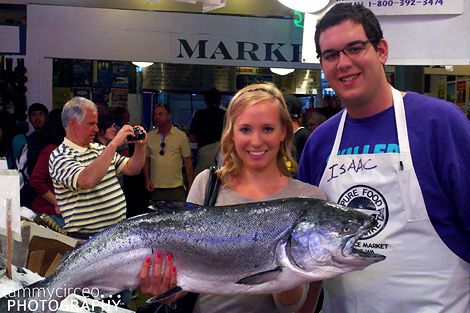 Isaac is the grandson of the owner, and will soon become the owner himself. He was very good at helping me choose what I wanted and Aly took no time making friends with not only a King salmon, but every single fishmonger in there: Mitchell, Matt, Bryan, and Isaac. See the guy in the upper left of the photo below? Yeah, I was keeping my eye on him!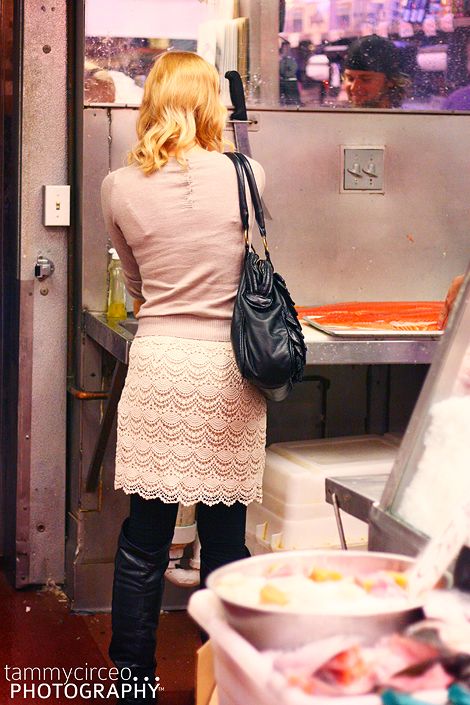 I should've asked for some fish "parts and bones to make stock, right?!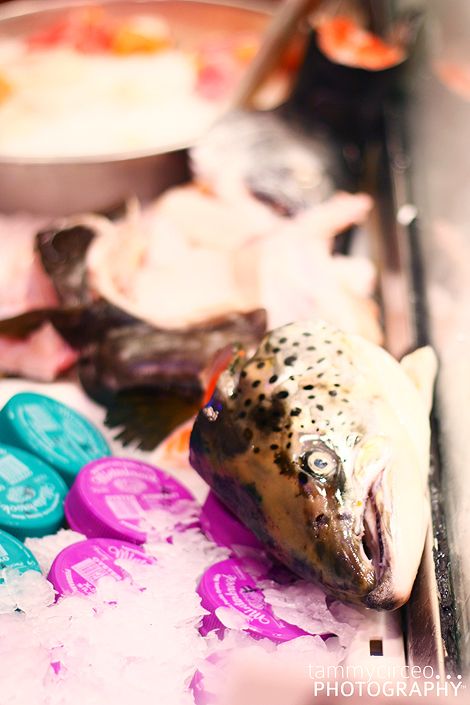 It's not imperative to remove all the bones before cooking the salmon, but I like to get as many out as possible to make it a more pleasant eating experience. I have a pair of fish bone tweezers, but I've also been known to clean a pair of needle-nosed pliers and use them. If you feel along the top part of the fillet, you'll feel a line of bones. In the photo below, I've lifted three or four so you can see the line.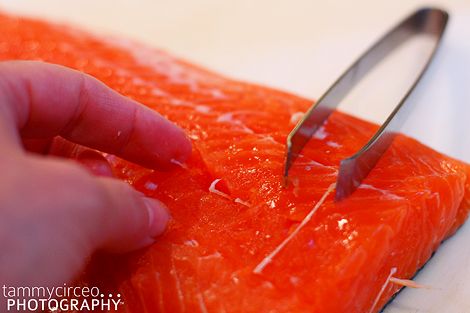 Just pull them gently out. Some will need a bit more force so pull "up and slightly back" rather than "forward". It would seem that pulling forward is more natural as that is how the bone is facing, but it doesn't always release and often the bone will break and you'll damage the flesh more by trying to dig down into it to get the broken bone.
You can see where I've pulled the bones out ... and then I gently press the flesh back together.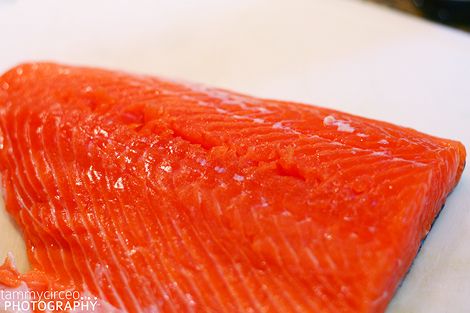 Beautiful piece of King salmon!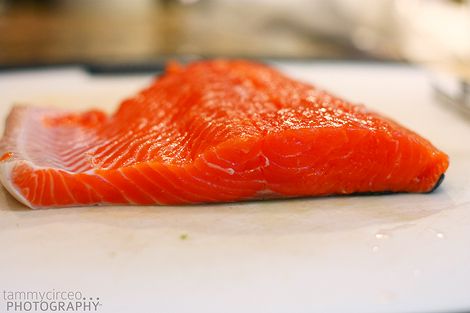 Rub that gorgeous thing with some olive oil, salt and pepper it (and garlic, if you like), layer some lemons on so they roast along with the meat. Place it on a flat grill-pan, a piece of aluminum foil, or a cedar or alder plank that has been soaked for at least 30 minutes. Grill on medium to medium-high heat till the fish flakes and the flesh is still opaque. Depending on the thickness of the fish, it could take 15-20 minutes. I usually cover the grill to keep all the heat in and if I'm using a cedar or alder plank, the smokiness really gets into the flesh of the fish. In the name of all things sacred, please don't overcook a piece of wild salmon. It's a waste of time, effort, and money!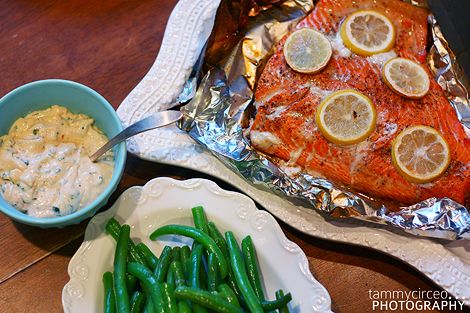 We usually enjoy the salmon just like that, but this time, I chose to make a Chili-Ginger Aioli to go along with it as something new and different. The flavors absolutely complimented the salmon. I hope you'll like it too!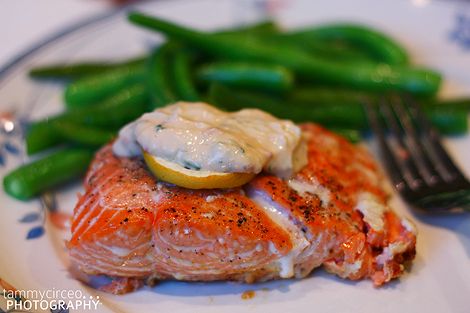 You will likely have leftovers of the aioli so save it to use as a spread on sandwiches, to mix into tuna salad, to dip French fries or chips in, or as a salad dressing. Use your imagination ... you can probably think of even more ways to use this aioli!
Good luck, Ben Boy, making the meal for your family. Bon Appétit!