Recently, Ben told me that his host mom wanted the recipe for German Potato Salad and I told him it was on the blog. Turns out it wasn't ... at least not in a downloadable form. So I grabbed the photos I took when I first posted it (back in 2008!), worked on them to make them look as good as possible, and here we go.
I've never seen a recipe written out that my German mother-in-law uses. She just makes it and that's how I learned to do it. However, since people always ask, I decided to try to quantify the ingredients and I feel I've come pretty close.
I use about 10 medium size red potatoes and boil them in salted water till they are tender.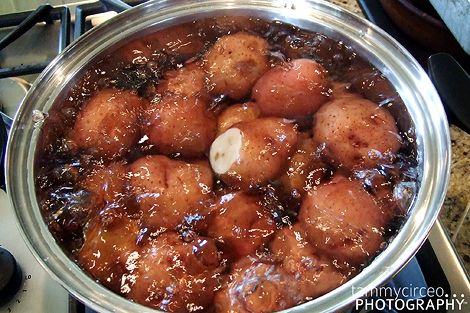 When they are cool enough to touch, I cut them in a rough dice.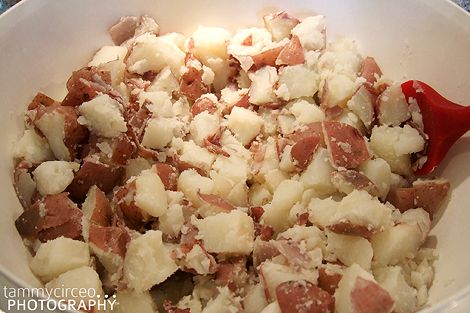 I used homemade dill pickles when I have them, but store-bought works just fine. In my opinion, you can't have too many pickles ... I use about a cup. And then about a half cup of scallions.
Six boiled eggs, choppe ...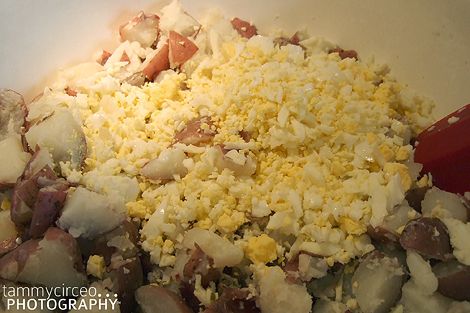 And a pound of bacon, chopped. You can chop before you cook it, or after. It really doesn't matter.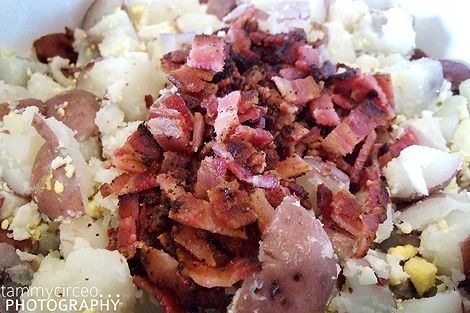 Mix everything together, drizzle a bit of the leftover bacon grease (if you don't want to use the bacon grease, you can use some olive oil, but no self-respecting German would) and pickle juice (or red wine vinegar) over and mix it together with some salt and pepper. Taste it for seasoning and add more vinegar or salt and pepper. German potato salad is normally eaten at room temperature, but my husband likes it cold. I usually serve it as soon as I make it and he is happy for the leftovers!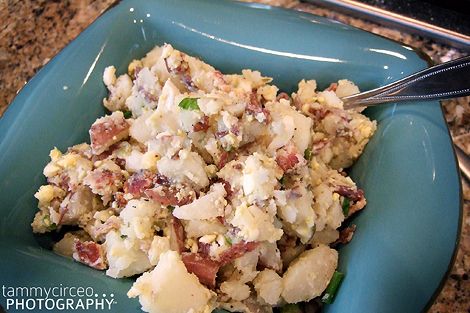 Bon Appétit!