As I read through Wini's book, I wanted to make everything in it ... and maybe some day, I will! I make many of the same "saute-deglaze-serve" meals as she does, so for my first "Wini-foray", I chose the Roast Chicken Breasts with Goat Cheese and Trois Oignons recipe from the "braise, stew, roast" section. Who can say "no" to soft-ripened goat cheese, leeks, shallots, garlic, and herbs of choice paired up with chicken?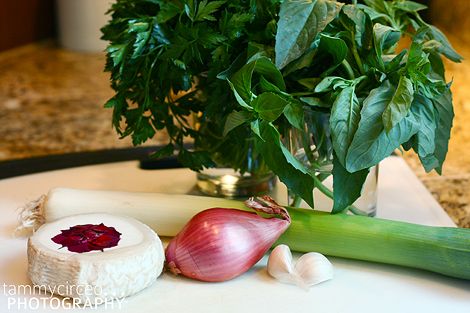 It's important to not use a fresh goat cheese (the ones typically sold in "logs") because it has a less complex flavor and doesn't melt quite as well. Look for a Boucherondin (the cheese counter at my local grocery store spells it "Bucherondin"). It has a rind and is often sold with an edible flower pressed into it.
Two of my favorite aromatics, leeks and shallots, are sauteed about five minutes until they are tender ...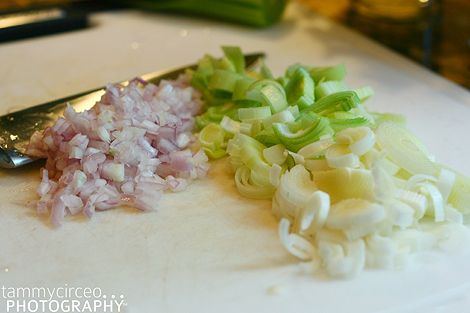 ... then the garlic and herbs are stirred in. The fines herbes suggested are chervil, parsley, chives, and tarragon, but being the rebel that I am, I used what I had on hand. I like to think the French home cook would've done the same. I used parsley and basil. Finally, the goat cheese is added to the onion mixture after the heat is turned off. It melts and coats the trois oignons beautifully.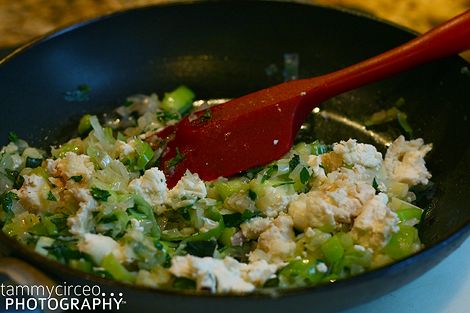 Wini's recipe calls for bone-in, skin-on chicken breast halves and she is so smart to suggest simply cutting a pocket into each chicken breast to put the cheese mixture in. I had skinless, boneless chicken breasts, so I cut two of them in half horizontally, then rolled the mixture into it and secured it with toothpicks. I worried that the cheese would ooze out too much, but it didn't. In retrospect, I could've cut a pocket into skinless, boneless breasts, too ...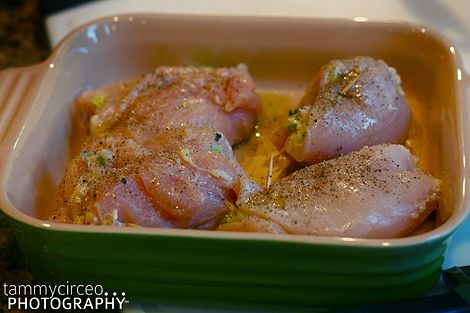 After baking for about 40 minutes, we had a lovely meal worthy of dinner guests!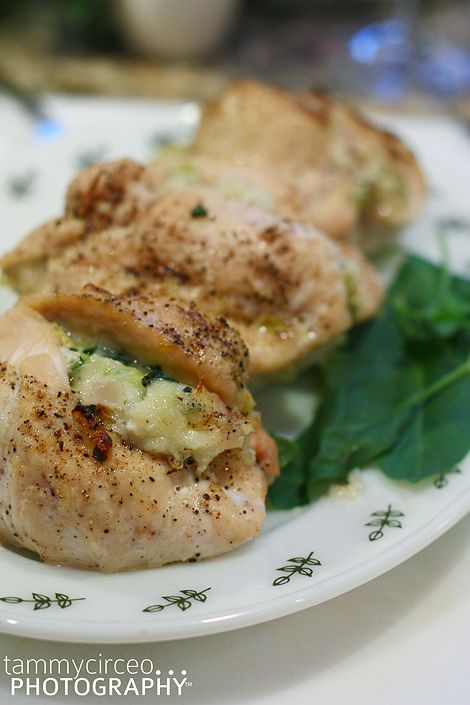 Wini suggested a salad with a lemony-dressing to accompany with chicken, but since the temperatures were just a bit chilly, I took her winter suggestion of serving it with Angel Hair Pasta with Fresh Grape Tomato Sauce. What a hit!
Find the recipe for the pasta HERE!  And buy Wini's new cookbook HERE.
Download Roast Chicken Breasts with Goat Cheese and Trois Oignons
Bon Appetit.