As school is winding down, days are becoming longer, summer produce is coming in, and valuable time spent together is rather to be spent playing rather than working, I offer you one of the easiest side dishes possible. Sautéing tomatoes takes them just past delectable and brings out their mellow sweetness. Grape, or cherry, or sugar plum tomatoes are all perfect for this method.
Heat 1-2 tablespoons of olive oil over medium high heat, add the tomatoes, season with salt and pepper, and bit of garlic (or garlic powder), if you want. The best way to get the garlic flavor using fresh garlic while avoiding burning it is to heat slices of it gently with the oil, remove it with a slotted spoon, then add the tomatoes. You could also use a purchased garlic-flavored oil.
It takes just barely minutes to sauté the tomatoes. They will sizzle as soon as they hit the pan and a few of the skins will pop. Delicious sounds! Swirl them around the pan a few times and dish them up. We prefer them just barely cooked, with still a bit of "pop", but if you prefer them softer, leave them on the heat just a bit longer.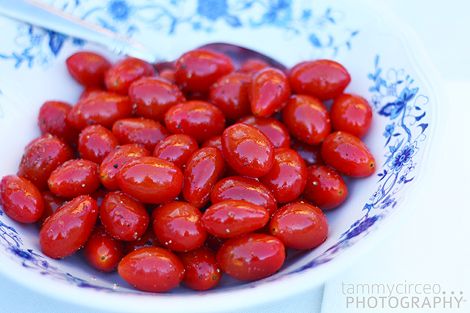 These are excellent accompanying any meat ... steak, chicken, fish ... whether you cook indoors or out. It's like having a sauce ... but not. :P You could add herbs, too, if you wish. Some great choices would be thyme, basil, or parsley.
And I've been known to throw any sweet leftovers into a salad for lunch. ;)
How simple is that?