This is the cake that almost wasn't.
I first read about it on Molly Wizenberg's blog where I found out that the recipe was waiting for me to discover it in April's Bon Appetit magazine. I made it the first chance I had! I just wanted a small taste of what a little of Heaven must taste like ... citrus and pistachios?! Yes, please.
The recipe is a classic pound cake with three types of citrus  ... lemon juice, orange zest AND juice, and lime zest ... and pistachios added.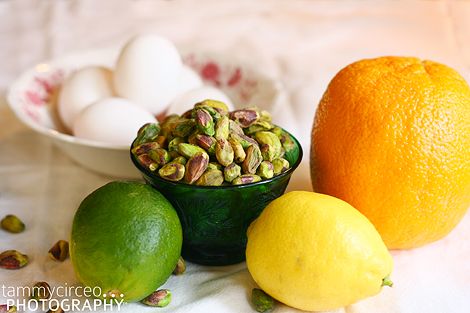 As I got ready to put it in the pan, I glanced at the recipe again and it said, "Pour the batter into the pan ...". I looked at my batter and thought it was more the consistency of cookie dough and said to Goldie, "Well, I'll PACK mine into the pan. There's no way it will pour!" I wondered what was wrong and even went through the list of ingredients again and confirmed that I had indeed mixed it correctly. I put the rest of the pistachios on top and put it into the oven.


I turned around to clean up the mess and saw the eggs sitting on the counter! The eggs that were supposed to go in the cake ... one at a time ... beating well after each addition ... ?! Yes, those eggs!
I yanked the cake out of the oven, put the batter back in the mixing bowl, and promptly set about beating the eggs in ... one at a time ... beating well ... looking around to make sure no one was watching.
I had no idea if the darn thing would bake well or not, but I wasn't going to throw away the effort. Ken came in after it had been in the oven about 30  minutes and said, "Is that supposed to be spilling over?"
Oh my ... "NO! It isn't!" I cleaned up as much as I could and slid a cookie sheet on the shelf underneath. I guess my loaf pan wasn't quite large enough. :P
See? Not EVERYTHING goes according to plan around here! The cake finished baking nicely, however, and the texture wasn't hurt too much by the eggs being added as an afterthought. As for as the taste? Well, can you really go wrong with citrus and pistachios?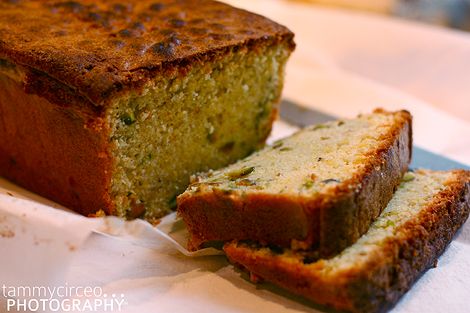 The magazine got the recipe from Chef Raymond Vandergaag at The Tasting Room at CityCentre in Houston who serves this with whipped cream and truffled honey. I considered making a glaze that my sister-in-law told me how to make and pouring it over the hot cake so that it seeps in, but after all the fiascos I had already encountered, I decided that I should probably quit while I was ahead! And truly, this cake doesn't need anything to make it better than it is. Although I'm not currently eating more than one bite of these kinds of treats, I can imagine this cake would be wonderful with a cup of coffee for a Lazy Day Breakfast, a fabulous afternoon snack, and easy to pack to give a friend. It would be just beautiful to serve to dinner guests as well.
Bon Appetit! And better luck to YOU when you make it! ;)