Confession: Until today, I had never tasted carrot juice.
Fact: After today, I shall drink it more.
As I read the recipe for the Citrus-Pistachio Cake that I posted yesterday, my eye wandered to the center column of the magazine where a recipe for a Carrot-Ginger Elixir caught my attention. What qualifies it to be named an elixir, I'm not sure, but it absolutely doesn't matter what you call it as long as you try this drink! The ingredients were simple (raw sugar, ginger, carrot juice, and fresh lime juice) and the method almost simpler.
I made it today to accompany my lunch with Emily, but had no idea what to expect in terms of taste. I smelled the mixture and brilliantly announced, "Hmm. Smells like carrots." To which my fully intelligent firstborn child calmly replied, "There would be a good reason for that."
Carrot and lime juices are sweetened with a ginger simple syrup that tastes that much better with the use of raw sugar. Pour it all over ice and WOW ... absolutely delicious and refreshing.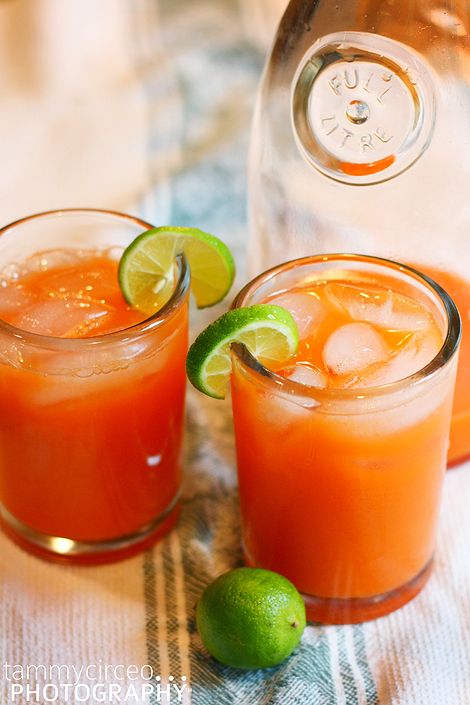 The recipe originally came from Brick & Bottle in Corte Madera, CA and was printed in Bon Appetit Magazine. It can be enjoyed just as it is or you could "spike" it by adding your choice of "spiking agent" (hee hee). Emily and I connived about creating the world's first Carrot Margarita!