When I was "back home" visiting my grandmother and family, I learned for the first time in my cognizant brain that her family came from Vernante, Italy ... in the Piemonte region. Of course, I was curious about the food produced there and then I found out that our distant family members have a winery in the region. I was curious and started poking around the internet. I learned that the Pelissero Family did indeed have a winery and that I was certainly interested in many of the regional recipes.
I then decided that since our Valentine's dinner is always "in" rather than "out" with all the over-expectant couples ...  (I would self-combust if I had to eat out on Valentines' day!!) ... that our menu would be Piemontese. I started doing research and found that my local market carried the "family" wine!  They (the Pelisseros) have no clue who I am ... nor do they care. However, I decided that our Valentine's dinner would be Piemontese in style, accompanied by wine from the Pelissero Winery.
One of the recipes I found was for Piemontese Peppers. Let me tell you ... the rest of the meal was wonderful, but this was my favorite course!
Peppers, tomatoes, garlic, olive oil, balsamic vinegar, anchovies ... how could you go wrong?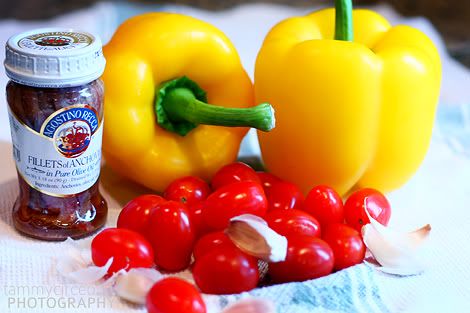 If you try this, be sure to leave the stems as whole as possible because it creates such a nice presentation. Just trim the membrane and cut carefully around the stem so as to keep it intact.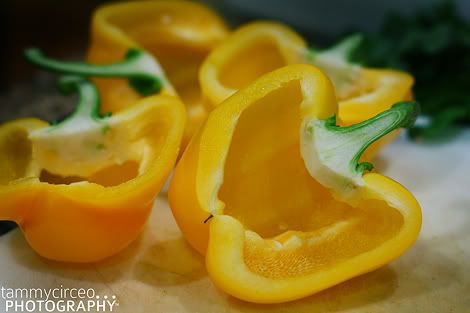 I coated the outsides of each pepper half with olive oil, and layered small garlic pieces, anchovies (just a little ... they are salty!), and fresh basil inside the cavities of each pepper half.


I saw recipes recommending red peppers, but I thought next to the tomatoes that the yellow ones would be beautiful ... and they were. Always think about presentation on the plate. We eat first with our eyes, then with our mouth.
Drizzle each with balsamic vinegar and olive oil. Season with salt and pepper.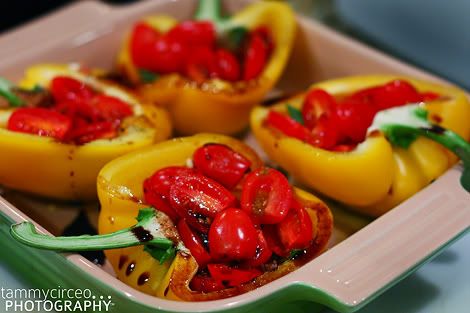 Bake for 20 minutes, then drizzle again with olive oil, if necessary.
Bake another 20 minutes, or until the pepper is tender.
Serve on a single plate with a bit of basil and the juices from the pan. As each pepper half is cut into, the juices will flood the plate and leave plenty of yummy juices to soak up with a lovely bread.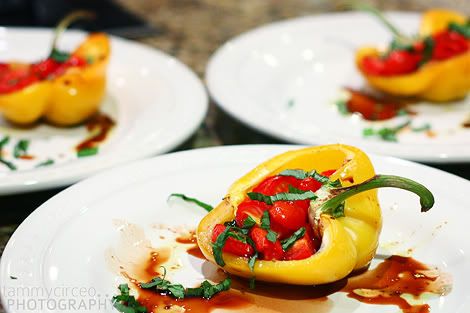 This is a fabulous first course warm salad ... but it is so satisfying that it can do double duty as a lunch on a weekday. I think it would also be darling (as well as tasty!) as an appetizer using the small "snacking" peppers, don't you?!
Bon Appetit!
You don't really need a recipe, right? I'm sure you don't, but I'll post one in the next 24 hours. I'm posting this in advance and I'm sure you'll understand that I'm going to snuggle with my husband rather than type out a recipe. Back soon!  :)
OK ... here ya go ... a full-on recipe!