(Since I'm not home this week, I'm not posting the French Fridays for Dorie today ... It was just potatoes in broth anyway so I think you're getting the better end of the deal with this shrimp!)
Fra diavolo means "brother devil" in Italian. This dish gets its name from being spicy, but of course, you can make it however spicy you wish by increasing or reducing the amount of red pepper flakes.
Most recipes I've come across call for onions in the sauce, but I don't care for that so I've always made up my own way of doing it. I finally found one recipe that doesn't call for onions and it belongs to Lydia Bastianich. Of course, she is one of the masters so I found myself feeling rather validated. ;)
The shrimp can be sauteed with olive oil and garlic first, then removed from the pan while you make the sauce. This is how Lidia's recipe reads, but I usually make the sauce first, then add the shrimp so that they cook gently and are super tender. The sauce is a simple garlic and tomato sauce, seasoned generously with red pepper flakes, and finished off with fresh basil.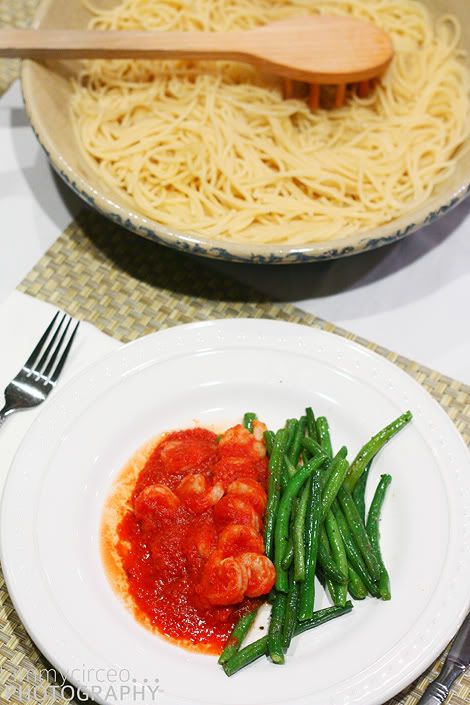 Of course, fra diavolo is served with pasta, but since I'm watching the carb intake, I enjoyed mine with sauteed green beans. Just perfect.
Bon Appetit. Or maybe I should say "Buon Appetito"?
Ken, if you're reading this, I can't wait to come home and cook for my favorite Italian.