Are you into baked chicken? Yeah, me either. Baked chicken, in my ever so humble opinion, is as boring as the sitting in my Mammaw's kitchen watching live wrestling at noon on Saturdays. I hope I only have to eat it as many times as I watched live wrestling ... not many!
Most baked chicken is dry, flavorless, and masked with a sauce to hide its awfulness. However, recently, I came across a recipe that might forever change the face of baked chicken in my world. The skinless, boneless chicken breasts are coated with a bit of olive oil, then seasoned with salt, pepper, thyme, and oregano.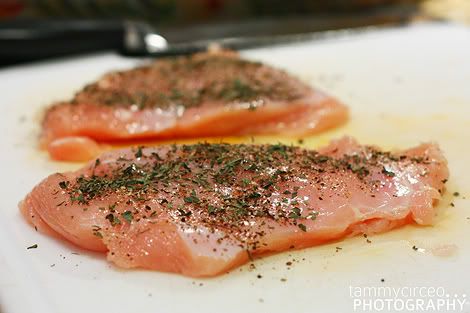 Garlic is thinly sliced and placed on top.
To sweeten the pot, sundried tomatoes are taken straight from the jar and layered on top of the chicken, then a little of the oil from the jar is drizzled over it all. Usually that oil is olive oil so it contributes to your health, but be judicious nonetheless.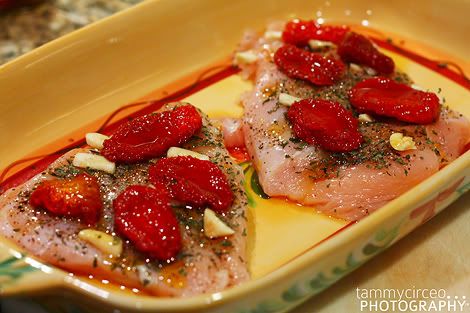 The resulting flavors are sublime. The tomatoes soften as they bake so that cutting through a piece of tomato and chicken, and probably picking up a bit of garlic along the way will yield a very satisfactory morsel.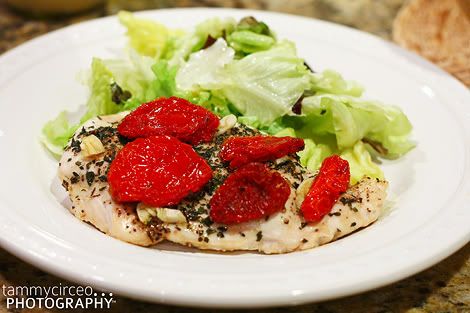 Are you surprised that I accompanied mine with a butter salad dressed in homemade vinaigrette? I thought not. But it would be just as yummy with sauteed garlic zucchini or green beans or on top of steamed spinach. Let your own tastes determine how you eat it!