A friend of mine tagged me in a photo on Facebook yesterday ... a photo of the focaccia she was making using my recipe. She asked how long it would keep and that led me to consider ways of using leftover bread. One thing leads to another.
You can always use baguette for bread pudding or French toast. Grilled cheese or paninis of all varieties are wonderful on the other two. You can also grind them in the food processor to use as fresh bread crumbs. That beats packaged ones any day of the week! The kiddos in your life might also enjoy a trip to the duck pond to feed the ducks. And any old bird would love the crumbs tossed out into your yard to snack on, right? 
But homemade croutons is an easy way to use up old bread. It only takes about 5 minutes, there are no preservatives, and you can season as you want.
Cut the bread in bite sized pieces, about a half inch. Or one-inch, if you have a big mouth. :) Or simply want more bread.


Pour a bit of olive oil in the pan ... (how much depends on how many bread cubes you have--this is about 2 Tablespoons for about 1/3 of a normal size baguette) ...
Allow it to heat to medium-high, then add the bread cubes, and toss them in the oil to coat them well.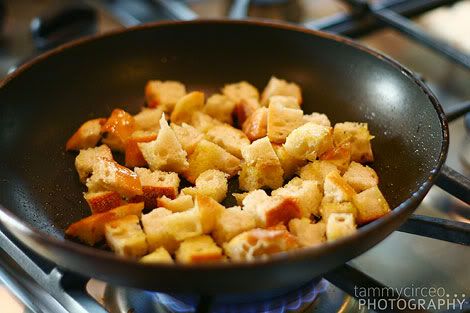 Season as you like. I used sea salt, fresh-ground pepper, garlic powder, and smoked paprika this time, but I've been known to only use salt and pepper, or to add oregano, rosemary, or thyme. The seasonings I use largely depend on what I'm serving the croutons with. (I don't use fresh garlic because I don't want it to brown in the toasting process. It would taste bitter. You could, however, add garlic slices to the oil while it heats -to impart the flavor- then remove them before adding the bread cubes.)
Allow the bread cubes to toast till golden, tossing them a few times to get them toasty on all sides.
You end up with croutons that are crunchy on the outside, but still slightly soft on the in. Just perfect to accompany soups or salads.
Or eat by themselves because you just can't help yourself. :) Don't ask how I know that.
What do you do with leftover baguette, focaccia, or ciabatta? Please don't throw it away ... at least give it to the birds. "Waste not; want not!"