Do you know any strange individuals who enjoy reading cookbooks for pleasure, watching cooking shows as a means of relaxation, and reading food blogs for entertainment? If you know *ME*, then you know someone like that. Some find it amazingly irritating and others, like my husband, encourage the behavior.
Ken and I love to watch the show "Chopped" on Food Network. I DVR it so we can watch it at our own leisure. Have you seen it? It's a competition show where four chefs use four mystery ingredients, the pantry, and the fridge to create a dish. There are three rounds -- appetizer, entree, and dessert -- and each round has its own basket. The trick is that these ingredients aren't necessarily "normal", nor can they typically be found together in the same dish. The chefs must find a way to use each ingredient in an innovative way. After each round, a chef is "chopped" and the rest go on to compete in the next round until a winner remains after the dessert round.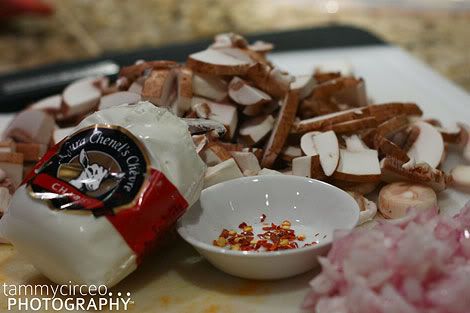 Aly is always telling me that I should go on that show. I remind her that I am not a chef, nor am I as innovative as them! We walk through the grocery store and she suggests mystery baskets for me: "flour, chocolate covered blueberries, daffodils, and ... escargot!" Roses? Maybe ... but daffodils?! Not happening, Doll! (And I've never eaten an escargot!)
I follow the blog Dinner: A Love Story and they sometimes do what I would term "a civilised version of "Chopped". They provide a list of ingredients and challenge their readers to create a dinner out of it. No recipe ... just tasty ingredients that actually do seem to go together. Something that most home cooks could manage! The most recent challenge was described HERE. The idea is to make a dish without a recipe. Over the years of finding quick evening meals for a hungry family, I've worked on this skill quite a lot so I decided to take on this challenge.
The ingredients were goat cheese, shallots, mushrooms, red pepper flakes, and pappardelle. (Olive oil, salt, and pepper are understood ingredients.) I used the fridge as an ingredient source and added chicken strips. Ken doesn't LOVE mushrooms and I felt I needed a bit more protein. I pounded the chicken strips to flatten them, dredged them in flour and salt, then pan-fried them in a little olive oil.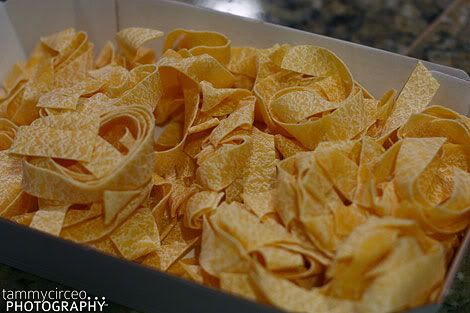 This one was easy for me ... after the chicken was done and holding in a warm oven, I cooked the chopped shallots down a bit, then added the sliced mushrooms and a little more olive oil. I deglazed the pan with a bit of port -- Marsala would be fabulous, too. While the pasta cooked, I crumbled the goat cheese in the bottom of my pasta bowl and sprinkled red pepper flakes over.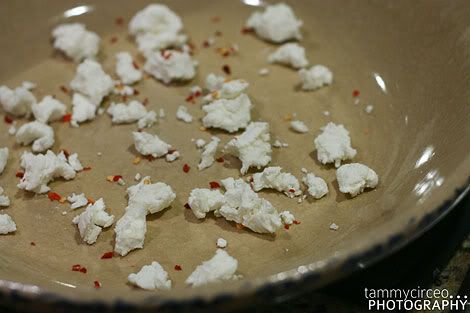 When the pasta was done, it went right on top of the cheese, melting it just perfectly. A quick toss and a bit more pasta water to coat made a wonderful sauce.
The chicken and mushrooms went right on top and the port sauce mixed with the tangy goat cheese was a match made in heaven.
Do you ever cook "by the seat of your pants"? It's a challenge you should issue to yourself and see what you come up with ... those dishes are some of our favorite dinners! 
Bon Appétit!