Squash, in and of itself, is not a vegetable that screams for attention. In fact, the flavor of a squash almost reads as bland. Think about it ... when we prepare squash, it is usually seasoned well or combined with other ingredients to enhance its texture and flavor. Summer squashes, such as zucchini or yellow crookneck, don't need much cooking at all to render them tender and tasty. They are usually sautéed or grilled ... or down South, fried! But autumn/winter squashes take a bit longer. They can be boiled, of course, but why boil a squash when you can roast it? Roasting brings out so much flavor, not reduced at all by water.
Puréed soups are among my favorite soups, especially as a lunch or a first course. They are velvety and full of the flavor of the star ingredient. My neighbor and friend brought me a bowl of Butternut Squash Soup the weekend we had our garage sale. It was piping hot and topped with homemade croutons. It was definitely a welcome lunch break on a cold rainy day.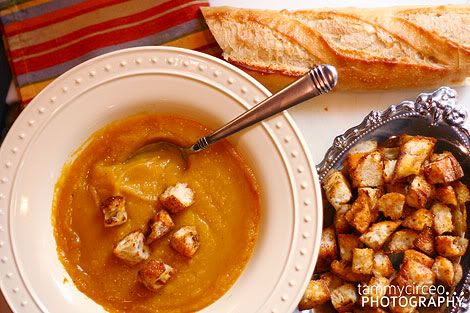 The recipe is very simple ... I didn't even write quantities down as she told me what was in it, but as I recreated it in my own kitchen, I decided to make notes so I could share with you. The squash and shallots are oven-roasted (you could also use onion or leeks), then added to garlic and ginger in a large pot, topped off with vegetable and chicken stocks, then pureed.
In my opinion, there is little more comforting than a bowl of soup on a cold day. You simply must try this fabulous soup full of Vitamin A!
Bon Appétit!