I've see a few Italian TV chefs using farro, but really only knew that it was a grain. I had no idea how it tasted and I fell in love with this salad at first bite.
Farro is a wheat grain that is thought to be the same as emmer wheat or spelt. I learned that in Italy, the three are referred to as "piccolo, medio, e grande" ... small, medium, and large. I can't vouch for the truth of that statement, though, since I read it on wikipedia, I've never been to Italy, and this was my first taste of the grain.
The fact remains, however, that it is one of the healthiest grains available as it hasn't been stripped of its nutritive value. The texture is chewy and yet crunchy making it an interesting texture. Paired with tomatoes, shallots, a lemon-thyme vinaigrette, and goat cheese, it is a fabulous first course, a great side dish, or a weekday lunch.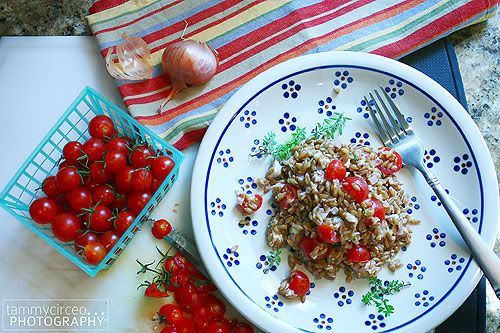 Have you ever eaten farro? What do you think of it? What is your favorite recipe using it?
Bon Appétit!