Invariably, when I have fresh herbs in the fridge, they end up spoiling before I can use all of them. I have heard of standing them in a glass of water in the fridge, but if your fridge is used by as many people as mine is, it's only a matter of time before they get spilled ... and that's no fun to clean up.
Herbs are usually wet when I bring them home from the market and the plastic bag they are in traps all of that moisture causing them to spoil sooner.
Here's a trick that will allow your herbs (and greens of all sorts, actually) to stay fresh longer. Dry them as much as possible either by shaking the water off, using paper towels, or even a salad spinner. Then wrap them in paper towels before putting them in plastic zip bags or containers. Even the herbs that come in those little clear plastic containers should be removed, wrapped, then stored again.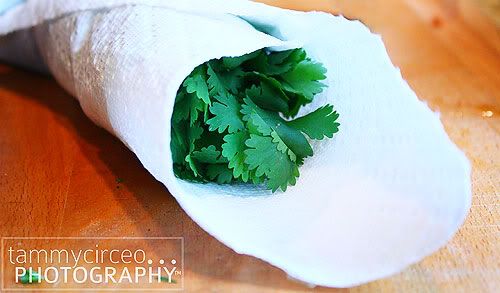 Note: be sure to label the bag or container! With the greens wrapped in paper towel, you'll have to open every single last one before you find the one you want! Don't ask how I know this ...