A quesadilla, to me, is the Mexican equivalent of a sandwich. Putting ingredients between two slices of bread makes eating on-the-go a little easier. Same with tortillas. And many times, I'll opt for a tortilla over bread. Just because I can.
I came across this idea on food52 and found it both strange and interesting. I opted to vary the amounts of the ingredients a bit, but really, how wrong can you go with roasted corn, caramelized onions, pepper jack cheese, and goat cheese ...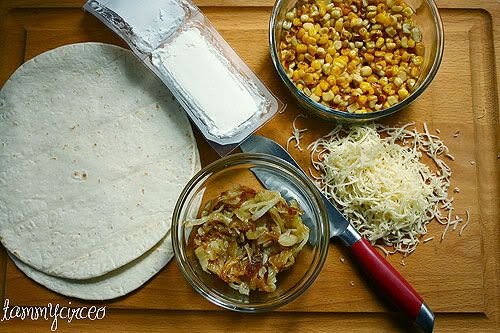 So good! The sweetness of the corn counters the tanginess of the goat cheese just perfectly.
Likewise, the slight spiciness of the pepper jack cheese along with the sweet, soft onions is just right.
I wasn't disappointed in this strange and interesting quesadilla. It was a great substitute for a grilled cheese sandwich to go with my homemade tomato basil soup, too. (PS - I used flour tortillas, but Emily made hers with corn tortillas because of her wheat allergy. She said it was wonderful!)
That, my friends, is what lunch is all about. Bon Appétit!
I'm putting up a recipe, but you should really use the amounts of ingredients that you prefer. If you want more goat cheese, put more on. If you want more pepper jack, use more. Experiment with different tortillas, too ... maybe corn, maybe spinach, roasted tomato ... there are so many options available!