Rather than complain about the fact that the weather seems to think it is early April as opposed to mid July, I'm choosing to will the weather to catch up to the season by making cool summer treats this week. If it works, you can send your gratitude to my inbox. And if not, please don't stone me. Thank you very much!
First up is Toasted Coconut Ice Cream. I first saw this recipe on one of my favorite new sites, Food52 (where it is actually called a gelato by its creator, Nicole Lang), and it sounded very summery and refreshing to me.
The actual time in hands on preparation was minimal, but the process to make it took a couple of days because the base is an egg custard that is cooked, then cooled for at least 4 hours (overnight in my case), and then frozen in the machine, then stored in the freezer until it hardens properly.
One fabulous tip is to put untoasted coconut in the custard base allowing it to "steep" while it cools, strain it out, then continue with the freezing. It really helps the coconut flavor to permeate the cream. You should also use dried, unsweetened coconut.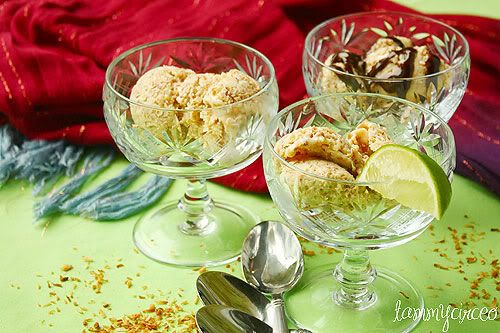 When Emily walked in the door, she started to say something, but I filled her mouth with a spoonful of coconut-y, creamy goodness. And she said, "Umm ... I need more!" It is definitely good plain, but I thought about exploring just a bit more by pairing it with freshly squeezed lime juice, or drizzling it with chocolate syrup. OH.MY.GOODNESS. Coconut and lime are a natural pair as are coconut and chocolate. You'll be mentally transported to an island paradise, then you'll go book your flights. ;)
You simply must believe. And try this recipe.
Bon Appétit!