My blogging schedule is way off from "normal" these days given that it's summer, the kids are home throughout most of the days, and our time is punctuated with baseball games and sometimes, other things we like doing as well. :)
Today should be a French Fridays with Dorie post, but I didn't make this week's recipe (Salmon En Papillote). Truth is, I haven't cooked a lot at all since the July 4th BBQ. Our dinner time has been interrupted by the baseball schedule this week so we've had "déja food" (AKA "leftovers"!) most of the week. (My friend, Missy, calls it "déja food" and I find it quaint.)
SO ... instead of healthful salmon, I'm going to tell you about one of my favorite cakes. Quite a trade-off, huh?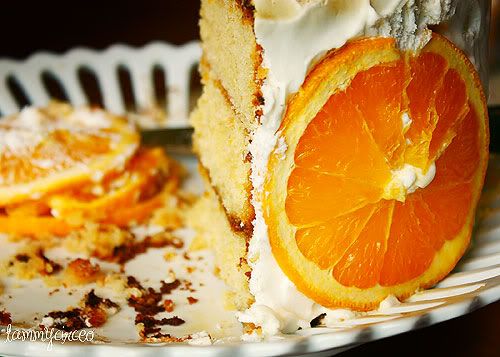 I first found this recipe in the Victoria magazine many years ago. It seems funny now to say that I was a charter subscriber to that magazine ... and I loved every issue. Such a classy publication.
Jan Karon, the author of the Mitford Series, was a writer-in-residence for Victoria Magazine during part of the time that she was writing the series. Her readers were familiar with her description of Esther Bolick's Orange Marmalade and when pressed for a recipe, she claimed that it was completely fictional!  Because we all drooled over the prospect of actually tasting that literary tease, Jan's editor at the magazine arranged for one to be created in an Atlanta kitchen by cookbook author Edna Lewis and chef Scott Peacock.
And boy, am I glad it was! I've made it several times since then, and it is a hit every time, once raising $300+ at a school auction!
You can find the recipe all over the internet, but of course, I've included it here for you as well.
Download EsthersOrangeMarmaladeCake
(I did not make the cake in the photo .... that would be my Emily's handiwork and it was created for a Final Project in one of her design classes! There were three criteria for the Project -as I remember- and this met all three. She said, "You should've seen everyone's faces when I brought this out!" Pretty sure she got an "A"!)
Bon Appétit!