I know I said I would be posting summer cool-down treats this week, but folks, it's just a mite chilly 'round these parts for any  more cool-down treats. If we cooled much further down, we'd be ice cubes. Normally, I wouldn't even consider roasting a chicken in the summer months, but today? I'm roasting a chicken. In the oven.
While we wait for warmer temperatures in which to enjoy those treats, I'm going to talk about baseball. Shocked? I didn't think so. More specifically, let's talk about decorating a boy's room with a baseball theme.
This is my boy. Ever since he could barely walk, he's had a bat in his hand. There was really no question as to whether he would have a bedroom decorated with baseball stuff! And even if I had refused to have cooperated, baseball would've taken over anyway!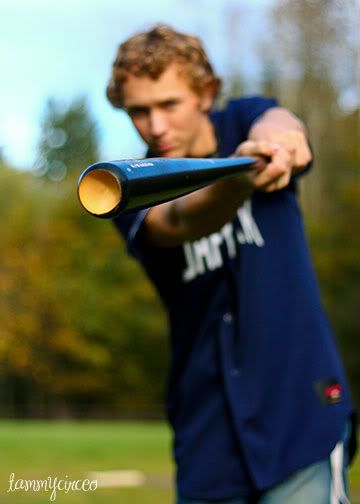 I'm not one usually given to "themed" bedrooms for kids and find most of them rather obnoxious, frankly. And those of you who knew us when Emily was 2 years old might remember that she was totally in love with Sesame Street, and coerced her dad into buying Sesame Street wallpaper border for her bedroom when I wasn't shopping with them ... yeah, that still grates on me! I had visions of pink, and quilts, and pretties ... turns out THAT was a pipedream!
Back to baseball ... so in figuring out how to surround Ben with all things baseball in his own living space, I knew that I had to find things that I could live with, too. In his first "little boy" room, we put a dark red plaid wallpaper on the bottom, topped with a border that had fat, hand-drawn dinosaurs catching, throwing, and batting. They were dressed in dark yellow, olive green, and federal blue. They sound like horrid creatures, but they really WERE pleasant little guys and I defend the wallpaper choice by saying, "It's what Ben chose and those WERE the days of wallpaper!"
Thankfully, we moved from that place, and the next few of his rooms have all looked about the same ... using denim with touches of red, and accents of baseball. I might show you a photo of his current room, but it is NO shape to be photographed! He's 18 and moving out in five weeks. 'Nuff said.
Here are my tips for decorating a boy's room with a nod to America's favorite sport:
Use a neutral color palette and accent with the child's favorite team colors. These can be changed out as quickly as his favorite team changes. In Ben's case, this has never been an issue ... it's Red Sox all the way, Baby!
Consider vintage baseball items, such as vintage signs and pennants.
Look for depictions of old baseball stadiums … you know the ones where the men are wearing hats and ties? These could be old photos or reproduced posters.
Look for décor in unexpected places. The US Post Office once had vintage baseball stamps with photos of legendary players that I purchased and framed.
Find a quilt in a neutral tone (this could be neutral blues, or greens … neutral doesn't automatically mean tan or beige) or in team colors to use on the bed rather than a full-on team logo bedspread. It lends to the vintage Americana side of baseball and can be used in other rooms as well. OR use a solid spread with a logo throw at the end of the bed or a logo pillow.
Buy a large pickle jar (or two!) in which to keep all the homerun baseballs that your son hits—or game balls he earns.
When your son has a class assignment to write a letter to someone famous, suggest that he write to his favorite baseball player (current or past) and request a signed photo. Ben received an 8x10, signed photo of Hank Aaron when he did this! Frame the photo nicely, and hang it in his room. (For the record, although Ben admires Hank Aaron, he isn't his favorite player. His favorite had already passed when he was old enough to write the letter.)
To create height above the headboard, find a hangar that holds bats to put in that space. He'll always be prepared for burglars that way, too. ;)
If you don't want to hang bats, find a large farm crock (in keeping with the vintage theme) to stand them in. Or an umbrella stand.
Hang shelves (or use a tall bookshelf) for books and intersperse with the trophies and game balls your son earns or autographed balls he collects through the years. You can buy the clear boxes for the baseballs to go in to protect them from dust and to keep them from rolling around.
Be sure to collect plenty of baseball books, too!
Steer clear of wall murals. This is a personal preference, I understand, but seriously, I feel strongly that no room should have a wall mural of any kind. Wall murals are difficult to hang properly so more often than not, they aren't. Furthermore, the use of that wall is severely limited and in kids' bedrooms, space is needed!
Don't feel that everything that hangs on the wall has to be related to baseball! Frame quotes or family photos, too. Baseball players love America, their moms and apple pie, too!
As with any other room in the home, make it meaningful. It can look like a million bucks and worthy of a magazine showcase, but if there's no connection to it or the items in it, it isn't "home" for the child.
There ya go ... just imagine the above 14 points and you have Ben's room! Then add piles of clothes, an unmade bed, and things stacked to pack and you have Ben's current room. I don't really have much of a say in that room any more! Agh.
How do you decorate? Do you like themed bedrooms for kids? What about color? Do you paint the walls? How do YOU feel about murals? ;)