Potato Salad is a quinessential summer dish. It consistently shows up at picnics and potlucks, accompanies fried chicken and grilled ribs, and is often not appreciated for its potential as a side dish.
And for good reason, I would say. Potato Salad is often "over-mayonnaised", combined with too many eggs and not enough pickles, and if left sitting in warm weather can be a serious turn-off.
I recently set out to create a potato salad that contained no mayonnaise and was not German--as much as I love German potato salad, thanks to Regina, my mother-in-law.
Whole, small red potatoes cooked in salted water just until tender enough to pierce through and not yet mushy were perfect for my recipe. After they cooled, I cut them into bite-size pieces ... most of them in quarters, but sometimes eighths, depending on the size of the potato, of course.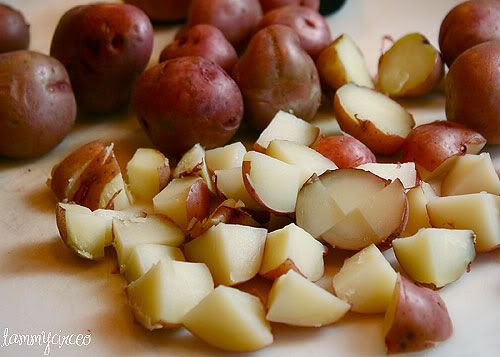 Fresh dill and chives? Yes, please.
Chopped herbs and red onion ... such a vivid combination of colors.
Greek yogurt, sour cream, and lemon juice, seasoned with salt and pepper becomes the dressing. Toss all the ingredients together with salt and pepper and enjoy a wonderfully lite potato salad.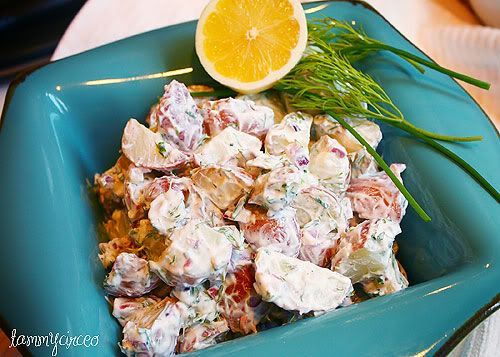 Those who like a heavier, mayonnaise-based potato salad might not enjoy my version, but the herbs and lemon juice really show through the yogurt and sour cream. The freshness was welcome and accompanied spicy ribs perfectly.
Bon Appétit!