Beets. Seems you either love them or you hate them. I don't quite understand what's not to like given their sweetness and amazingly vibrant color. To each his own.
I, for one, love them! And in a salad most of all. Growing up in France, it wasn't uncommon to be served Beet Salad when invited to a friend's home for dinner ... simply beets tossed with a bit of vinaigrette. Sometimes, the beets were even of the canned variety. I remember in my early adulthood after having recently left France, I would buy a can of beets, toss it with vinaigrette and call it lunch -- just for the memory of a bit of my childhood. I would do the same with green beans. Truly. It was heavenly.
However, I will say that steaming or roasting fresh beets (or green beans for that matter!) certainly ups the tasty factor by a few notches. Although I normally roast my beets in the oven, I chose to steam them this time and I did so on the day before I made the salad. They came to the preparation already chilled so after mixing with the vinaigrette, we were pretty much ready to eat.
I piled them on a platter lined with baby arugula, then topped them with the red onions and bits of fresh goat cheese. I sprinkled oregano all over the top and enjoyed the fanciest beet salad I've made to date.


Truth is, I'm content with beets mixed with vinaigrette and nothing else, but I would never pass up the goat cheese addition ... and maybe even a few roasted hazelnuts (or walnuts - or pecans - or pine nuts)? The onions are negotiable: after soaking them in ice water, they weren't extremely pungent, but I guess I'm a purist in more ways than one ... I just like the beets.
To create a full dinner using the salad, I chose to make a similar marinade for grilling chicken as the vinaigrette was for the beets: olive oil, sherry vinegar, dijon mustard, salt and pepper, and fresh oregano. I usually just put the ingredients for a marinade on a platter, whisk it with a small whisk, then lay the meat on top and turn it over a few times to be sure it is well-coated.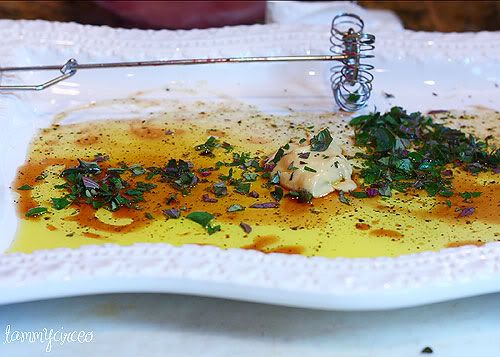 A few minutes on the grill and we had a dinner to rival any 5-star restaurant. OK, maybe a 3-star, but it was absolutely delectable, reminiscent, and filling.
Here's the chicken recipe download: Download Sherry-OreganoGrilledChicken
Bon Appétit!
(If you're new around here or are wondering what French Fridays with Dorie is ... It's an effort to use one of Dorie's recipes from her cookbook Around My French Table each week. The recipes are decided on by popular vote on the website French Fridays with Dorie. Purchase your book HERE and play along! According to the rules of the group, I'm not allowed to post the recipe...so sorry.)