My sister-in-law, Erin, has done a fantastic job of making me feel WONDERFULLY blessed these last two days of posting! Today, she shares one of her specialties: Apple Pie, but she does it with a twist. Read on!
I don't know about the Pacific Northwest, or any other regions for that matter, but here in SoCal, cake pops are all the rage! I have a very talented friend who makes custom "Posh Pops" and my kids can't get enough of them! Ashleigh even had them for her birthday class treat and they were a huge hit with her fellow fifth graders! There are also various cookbooks totally devoted to these bite sized treats. That being said, my family really loves pie, so when I came across pie pops, I jumped at the chance to try them out! My friend Linda is oh so crafty and can bake and make jam like no other, so naturally, I try to glean off of her talent whenever possible. She has become my "Local Tammy." I say that because if Tammy was here, all three of us would be creating and cooking together!
Because I am a teacher, Linda and I usually have to save our craft/baking days for the summer, however we managed to sneak one in over Spring Break and delicious pie pops were our reward! We first spotted this fun alternative to cake pops on Bakerella's fantastic blog. Her 8 year old daughter, better known as "Little Miss Bakerella", walks you step by step through the process in her own words and the pictures are beautiful. My family favorite and my pie claim-to-fame, is my apple pie recipe so we used that for our pops. We made the crust from scratch, but you could buy store bought crust as well. We diced the apples and used about a teaspoon of filling per 3 inch pop. We only had skewer sticks for our first batch but I recommend using lollipop sticks and you can find them online HERE or at most craft stores.
After assembling our pops, we brushed them with an egg wash and they were ready for the oven.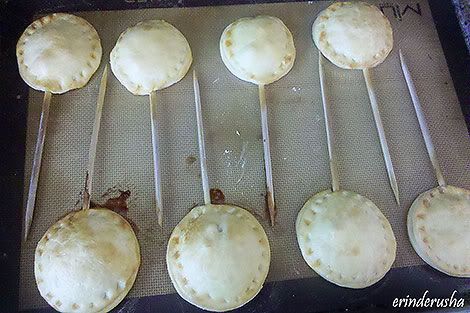 Keep an eye on them as they took a few minutes longer than directed in the instructions. When the tops are slightly browned, we pulled them out to cool. Make sure you do not try to handle the pops or remove them from the baking sheet until they are completely cooled and the sticks have set, otherwise you will wind up holding nothing but a lollipop stick in your hand! After they cooled, we had the fun job of wrapping our pies! We used small cello bags and ribbon to seal them at the bottom. And of course, one has to have a cute custom made stand for the pops to be displayed on…. thank you, Linda.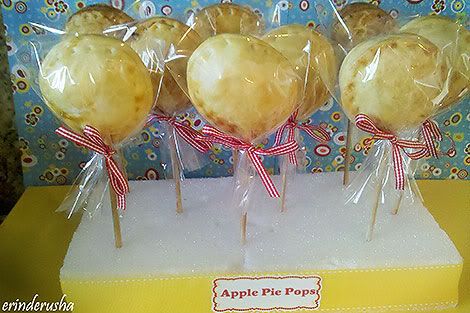 They were a huge success and as summer is fast approaching, I see a LOT more bite sized pies in our future!
(Tammy's notes: I talked Mom into helping me create these for Ben's graduation party ... you know, a kind of  "Baseball, Mom, and Apple Pie" vibe? They are not hard to make at all, but DO take more time than pouring the apples into a pie crust and baking it. They are quite a hit as a pop, though, making the time spent well worth it.)