I was ready to press "publish" on a post about my surprise market find and a fresh tidbit of news came across my screen in regards to that product. So ... I'm holding out the suspense just a bit longer. (Don't you just love when people do that to you?! I don't, but I'm doing it to YOU anyway. I'm heartless.)
Instead ... and a far cry from the "mystery product", I must say ... I'm offering you another salad. (I think this is the third one in almost as many posts?!) I've been eating a bit of these lately since new, tender lettuces are showing up in the market. And after you find out what the Mystery Market Product is, you'll know why I'm devouring the salads in the interim.
I saw Giada DeLaurentis make a similar salad on her show recently. This salad included zucchini, which is not in season yet, but I found some grown locally in a greenhouse. Good enough! Corn is another ingredient that isn't in season, but I find (thawed) frozen sweet corn to be a suitable substitute. I also included canned garbanzo beans, rinsed and drained, of course. When beans or nuts are added to a salad, its nutritive value increases exponentially! Incidentally, I saw fresh garbanzo beans at the market today ... have you ever prepared or eaten fresh ones?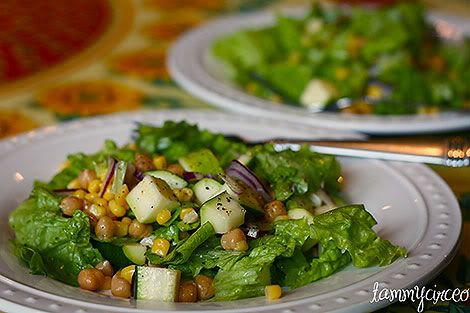 Fresh lettuce and basil, chopped zucchini, slivered red onion, garbanzo beans, sweet corn ... tossed and mixed with a lemon vinaigrette and topped with small chunks of parmesan cheese. Now that's a great lunch.
Bon Appétit!