This past Friday evening, from her end-of-the-week slouched position on the couch, Aly lazily said to me, "I sure could use a plate of risotto."
Where did THAT come from?! Maybe she was watching the Cooking Channel or the Food Network?
I thought, "I've eaten plenty of risotto, but I've never made it. Maybe it's time!" She and I were home alone, I had arborio rice, the traditional rice used make risotto, on hand, and a check for a few other ingredients proved that I could pull it together.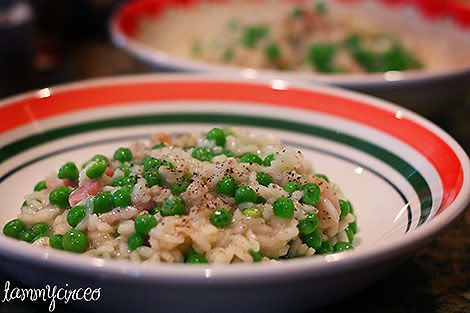 Thirty minutes later, we were eating what amounted to comfort food for us. It was seasoned with onions and little bacon, rounded out with fresh peas, freshly grated parmesan, and finished off with sea salt and ground black pepper.
Risotto has the unfortunate reputation of being difficult to make, but it truly isn't. You must monitor the heat of the burner, make sure to add more broth as needed, and there is a bit of stirring involved ... but it is not difficult. If you have someone as fabulous as Aly to keep you company (or a TV show to watch - which is LESS fabulous than my Aly, to be sure!) while you stir, it is a pleasant pasttime. I urge you to try it.
Bon Appétit!