Do you ever forget to get meat out of the freezer to thaw for dinner? And then realize, "Well, it won't thaw in time so what else is in the pantry that I can whip together?"
You know how salt melts ice? And you know how bath salts pull lactic acid from overworked muscles? These principles work with thawing meat, too!
Although it will still take time to thaw meat using this method, it will take LESS time. If you get off work at 5 and don't get home till 6, I don't recommend trying to thaw meat to feed a hungry family (OR your hungry self!), but this method is a lifesaver on other days.
Fill a clean container with cold water and add salt (I use table sea salt). Place your frozen meat in the salt water.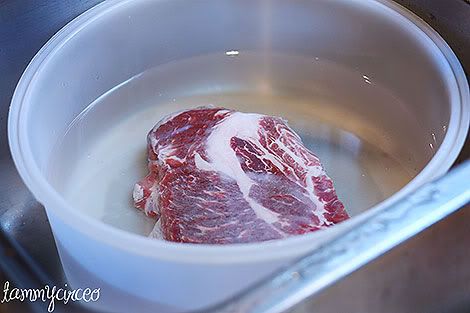 After an hour, pour out the old water, run fresh, and add more salt, turning the meat over. Keep checking every 30 minutes to see if it is thawed.
If the meat is in a package and you can't get the packaging off since it's frozen, just put the whole thing in the water. As you continue to check it, remove the packaging as possible.
Thawing larger pieces of meat (ex: roasts, whole chickens) will obviously take longer than smaller ones (ex: individual pieces of chicken, pork chops), but you can use this method to reduce the overall time.
To thaw ground meat, keep it in the packaging or put it in zipped plastic bags before submersing in the water. DO NOT thaw unwrapped ground meat using this method.
Always thaw fish wrapped or in zipped plastic bags. It thaws quickly and the salt could break it down too much so that it becomes mealy when cooked.
Thawing meat in salt water creates a diluted brine that helps tenderize the meat as well as pull more of the blood out. It doesn't render it kosher, but it is definitely a cleaner, more tender meat.
You can soak fresh meat in salt water before cooking with the same effect. Give it about 30 minutes, but it won't be hurt by a longer period. Just make sure the water is super cold. You might even add some ice.
Rinse the meat with fresh water and dry thoroughly with paper towels.
 Hopefully you'll find this works for you!