At long last, I found the secret to making Mexican Rice the way I like it ... enchilada sauce. I always used tomato paste and spices before, but I had leftover enchilada sauce from making Chicken Enchiladas (yes, the ones where I ate leftovers for breakfast the next day) so instead of opening a can of tomato paste, I just poured some enchilada sauce into the rice. Just perfect.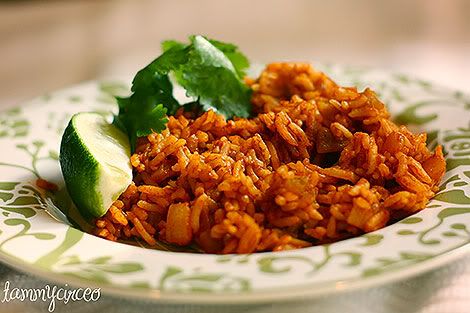 My recipe for Mexican Rice is very simple ... cooked rice, chopped onion, green chilies, and enchilada sauce. I love fresh cilantro, chopped and stirred in, too, as well as the leaves for garnish. So pretty.
Serve with any Mexican food. It is also very tasty with my Cowboy Beans!
Bon Appetit!